Altra Footwear Overhauls The One V3 Performance Road Shoe
May 8, 2017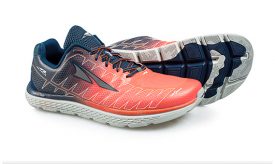 (Logan, UT — May 8, 2017) — Altra updated its lightest road shoe, the One, to make the lightweight performance trainer and long distance racer even better. The One V3 underwent a complete overhaul, yet kept the same $100 price point. With a stack height of 23 mm and weighing just 7.6 ounces, this is the perfect shoe for 5ks to marathons, speed workouts and everyday training.
A fresh, fast design makes this Altra's best update of the One yet. Along with a new look, the One V3 features TPU overlays for added durability and slimmer grooves on the outsole to prevent rocks from getting stuck in the bottom. This lightweight performance road trainer was built on the same popular last as previous models, but now has an improved fit and truer sizing.
Men's color options include lime, orange/blue fade, dark blue and black, while the women's are purple/orange, light blue/coral and black. The One V3 also features Altra's signature FootShape™ toe box and Zero Drop™ platform for a more natural, comfortable fit. The One, along with every Altra women's shoe, is Fit4Her™, which means the women's model is produced with softer cushioning on a female-specific last to account for the unique anatomical differences between men's and women's feet.
The One V3 will be released in May on www.AltraRunning.com and at your local specialty running retailer for $100.
About Altra
While working at a running store, Altra Founder Golden Harper was frustrated that modern running shoe technology caused poor running form and had not decreased running injuries. His passion to create a shoe that followed the science produced Altra's FootShapeTM toe box and Zero DropTM  platform. Since its founding in 2011, Harper and co-founder Brian Beckstead have grown Altra from one to 21 shoe styles, winning multiple Editor's Choice awards and distribution in more than 50 countries. Join the conversation @AltraRunning and #ZeroLimits on Twitter, Instagram and Facebook.
Media Contact: Colleen Logan, VP Marketing, clogan@iconfitness.com