Altra Footwear Launches New Dynamic Support™ Category with the Updated Provision 3.0 Featuring GuideRail™ Technology
November 29, 2016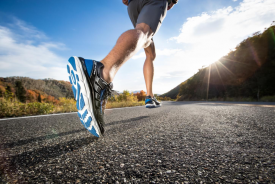 (Logan, UT — November 29, 2016) — The Altra Provision 3.0 is the first shoe in Altra's new Dynamic Support category, a new line created to provide lighter, more natural guidance and support.  Altra's Dynamic Support shoes guide runners' feet and improve form only when a runner shows signs of fatigue.
Dynamic Support in the Provision 3.0 includes three technologies to guide runners to a longer, stronger run. The updated Provision now features Altra's improved GuideRailTM, a non-invasive support feature along the arch side of the foot to realign fatigued feet that are collapsing. The VarusTM wedging is a few millimeter raise on the entire medial side of the shoe to align feet and legs that drop too far inward. The StabilipodTM acts as a supportive tripod by enhancing the three natural stability zones in your foot to help prevent excessive foot collapse and pronation. Altra's innovation is to integrate these three elements into the shoe that only take affect when needed, such as at the end of a long run, when feet are tired.
Altra's Provision 3.0 is a moderately cushioned shoe with a stack height of 25mm and a weight of 10.5 ounces for the men's sample. The updated version has a redesigned supportive midsole and quick-dry mesh upper in two new colors for men and three new colors for women. The Provision model was designed to improve running form, and assist with both fallen arches and excessive pronation. This Dynamic Support shoe is perfect for road running, walking, light trail running and cross training.
The Provision 3.0 also features Altra's signature FootShape ™ toe box and Zero Drop™ platform for a more natural, comfortable fit. The Provision, along with every Altra women's shoe, is Fit4HerTM, which means the women's model is produced with softer cushioning on a female-specific last to account for the unique anatomical differences between men's and women's feet.
Altra's Provision 3.0 is available now for $120 at www.AltraRunning.com.
About Altra:
While working at a running store, Altra founders Golden Harper and Brian Beckstead saw the pain caused by traditional running shoes. Their passion to create a shoe that made running enjoyable inspired Altra's FootShapeTM toe box and Zero DropTM  platform. Within only five years, Altra grew from one to 21 shoe styles, winning multiple Editor's Choice awards and distribution in over 50 countries.
Join the conversation @AltraRunning and #ZeroLimits on Twitter, Instagram and Facebook.
PR Contact: Colleen Logan, VP Marketing, clogan@iconfitness.com
Photo Caption:
Altra Footwear introduces the new Dynamic Support category featuring the Provision 3.0 with GuideRail™ technology, available now on www.altrarunning.com for $120.