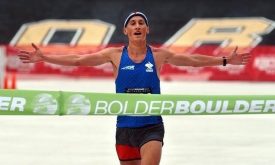 (Logan, UT — May 31, 2018) Altra's elite athlete Tyler McCandless dominated the Memorial Day racing scene by winning the BolderBOULDER 10K with a time of 30:54. McCandless had the race's only sub-five mile splits between the third and sixth miles and he beat second place by only 26 seconds.
Winning the 10K took four years of hard work for McCandless. He first ran BolderBOULDER in 2015 with a time of 32:35 for 26th place. In 2016, he ran a 32:05 for 6th place and in 2017, he ran a 31:04 for 4th place. His perseverance led to an impressive first place finish and his fastest time yet.
"It took years of trying, working hard and keeping the belief," McCandless said.  "But today I stepped to the line of BolderBOULDER with greater confidence and led wire-to-wire to claim the victory!" 
Since BolderBOULDER's start in 1979—this year is its 40th anniversary—the race has become one of the largest, most highly acclaimed 10K's and was named "America's All-Time Best 10K" by Runner's World. The race has over 50,000 participants and 100,000 spectators every Memorial Day.
"The win means a lot," McCandless said. "This is a peak race for me for the year and something I put on my race schedule in December. I wanted to do well at BolderBOULDER and make it a big one."
Check out the Team Altra Facebook page to stay updated on McCandless and all of the accomplishments made by Altra's Elite and Red Teams.
About Altra
While working at a running store, Altra founder Golden Harper was frustrated that modern running shoe technology caused poor running form and had not decreased running injuries. His passion to create a shoe that followed the science produced Altra's FootShape™ toe box and Zero Drop™ platform. Since its founding in 2011, Harper and co-founder Brian Beckstead have grown Altra from one to 25 shoe styles, winning multiple Editor's Choice awards and distribution in more than 60 countries. Join the conversation @AltraRunning and #ZeroLimits on Twitter, Instagram and Facebook.
Photo Credit: Boulder Daily Camera