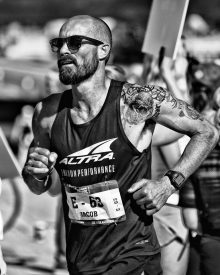 (Logan, UT—May 31, 2018) Altra's elite athlete Jacob Puzey became the Canadian 50K National Champion over the weekend by winning the 50K Ultra at the Calgary Marathon. With a time of 3:04:53, he set a course record and a 50K personal best.
Puzey—a resident of Calgary, Canada—has won the 50K Ultra road race the past three years. His previous wins include 3:06:21 in 2016 and 3:10:41 in 2017. Though he raced his fastest time, he had the most to overcome for this year's win.
"After breaking my leg last year at the JFK 50, it was a long, challenging winter without the ability to run," Puzey said. "My run volume was relatively low leading up to the event, but I was able to put in the work to feel confident and just let experience and the joy of running take over on race day."
"It was nothing short of exhilarating to cross the line with absolutely nothing left in the tank." 
Puzey raced his way to victory in the Altra Escalante.
Follow the Team Altra Facebook page to stay updated on the accomplishments made by Altra's Elite and Red Teams.
About Altra
While working at a running store, Altra founder Golden Harper was frustrated that modern running shoe technology caused poor running form and had not decreased running injuries. His passion to create a shoe that followed the science produced Altra's FootShape™ toe box and Zero Drop™ platform. Since its founding in 2011, Harper and co-founder Brian Beckstead have grown Altra from one to 25 shoe styles, winning multiple Editor's Choice awards and distribution in more than 60 countries. Join the conversation @AltraRunning and #ZeroLimits on Twitter, Instagram and Facebook.