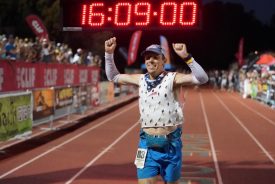 (Logan, UT — June 27, 2018) Altra's Elite Team was a force to be reckoned with at the 2018 Western States 100-Mile Endurance Run. Despite scorching triple-digit temps, Altra dominated the top 10 with its men taking third, fourth, fifth and sixth and its women taking fourth and fifth.
Mark Hammond ran an impressively smooth race, grabbing his second consecutive third place finish with a time of 16:08:59—45 minutes faster than last year's time. Ian Sharman ran a 16:23:32 for fourth place on his ninth top 10 Western States finish. This finish secured his entry into next year's race where he aims to get the record for the fastest 1000-mile time at Western States.
"I'm incredibly happy with my run," Sharman said. "I am on track for my goal of 10 top 10 finishes as well as being the first person to get 10 Western States finishes, totaling 1000 miles, under a combined time of a week. I just need to run under 18 hours and 6 minutes next year, which would be my slowest time by far."
Jeff Browning made huge moves in the second half of the race to nab fifth place in 16:45:29. Right behind him, Kyle Pietari ran an impressive finish with a crazy sprint to the track—going from a 12:48 pace at mile 94 to a 6:56 pace to the finish—barely edging out competitors for sixth place with a time of 16:54:23.
For Altra's elite women, Amanda Basham—who looked to be having a blast almost the entire race, smiling and singing at aid stations—grabbed her second fourth place finish and fastest Western States time at 19:17:59.
"I've started this race three times now and this year was the best one yet," Basham said. "I stayed positive and ran almost an hour faster than my previous time. Hundred milers haven't come as easy for me. It takes an enormous amount of mental engagement that I've struggled with in the past. I had fun this year and I finished in fourth place among an incredibly talented field of women."
Following her in at fifth place was Altra's international athlete Cecilia Flori at 19:42:55.
Other notable Altra Elite Team finishes came from Zach Bitter, who grabbed 11th place with a time of 17:26:18 and Jesse Haynes, who gutted out a tough race for 20th with a time of 19:28:26. 2016 Western States champ Kaci Lickteig had a strong run with a 12th place finish in 20:48:56 and Nicole Kalogeropoulos pushed through the heat for 17th place in 21:53:18.
About Altra
While working at a running store, Altra Founder Golden Harper was frustrated that modern running shoe technology caused poor running form and had not decreased running injuries. His passion to create a shoe that followed the science produced Altra's FootShapeTM toe box and Zero DropTM  platform. Since its founding in 2011, Harper and co-founder Brian Beckstead have grown Altra from one to 25 shoe styles, winning multiple Editor's Choice awards and distribution in more than 60 countries. Join the conversation @AltraRunning and #ZeroLimits on Twitter, Instagram and Facebook.
Media Contact: Colleen Logan, VP Marketing, clogan@iconfitness.com
Photo Caption: Altra Elite Mark Hammond finishes third at the 2018 Western States 100-Mile Endurance Run.