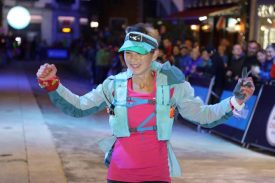 (Logan, UT — September 6, 2018)  Altra's athletes spent Labor Day weekend dominating the racing scene. From Ultra Trail du Mont-Blanc in France, to the Kauai Marathon and Half in Hawaii, to TranSelkirks in Canada, Altra was well represented around the world.
Altra Elite Kaci Lickteig crushed it at the legendary Ultra Trail du Mont-Blanc—a 103-mile trail race with a total elevation gain of 31,497 feet through France, Italy and Switzerland. In 2017 she finished 18th female and returned this year with the goal of finishing under 30 hours. Lickteig ran an impressive race, edging out the competition at the very end to grab 10th female with a time of 27:31:39.
"I sat in 11th place for most of the day," Lickteig said. "It seemed like the women ahead of me were just as persistent and relentless. I came down to the city of Chamonix where I was told with a kilometer to go that the next woman was about 50 seconds ahead of me. 'Race Kaci'  flipped on, I wanted that top 10 spot bad. So I ran as hard as I could and finished 27:31:39 in 10th position. I was overcome with joy!"
From the Altra Red Team, Jenny Welch also had an interesting UTMB. Three weeks prior to the race, she learned she had three stress fractures in her right foot—presumably from minimal recovery after her Western States 100 finish. Despite being injured, Welch finished the rigorous course in 44:58:31. Along with Welch, Altra Red Team members Peter Mortimer (31:45:03) and Martin Schneekloth (35:39:52) also finished the famous UTMB race.
UTMB week now comprises seven total races, including the OCC—a 33-mile event from Orsières, Switzerland through Champex, Switzerland, to Chamonix, France. Altra Red Team's Ben Robinson finished first American with a time of 6:10:41, while Altra's Social Media Manager and athlete Charli McKee finished in 9:01:38.
In Hawaii, Altra Elite Tyler McCandless won the half marathon at the Kauai Marathon and Half Marathon for the fifth consecutive year, and set a course record with a finish of 1:06:42, thanks to insanely fast splits averaging 4:30 to finish out the last few miles.
"Super rewarding to win The Kauai Marathon and Half Marathon for the fifth consecutive time in the half marathon," McCandless said. "I even took one second off my course record from last year! I was patient early and then blasted 4:34, 4:35, 4:33, 4:37, 4:32 to get the record of 1:06:42!"
In British Columbia, Canada, Altra's Event Coordinator and athlete Mike McKnight finished third at the TranSelkirks 5-day stage race with a time of 18:56:39. The five stages cover 100 miles with each providing different trail challenges featuring steep ascents and descents that lead to incredible lookout points, peaks and alpine lakes.
"The TranSelkirks 5-day stage race had amazing views, but the best part was the people," McKnight said. "It was so cool being able to spend every evening eating dinner with everyone participating. It was like developing a new, big family. We cared about everyone's success, and cheered everyone on each day."
Stay updated on all the incredible accomplishments made by Altra's Elite and Red Team athletes by following the Team Altra Facebook page.
About Altra
While working at a running store, Altra founder Golden Harper was frustrated that modern running shoe technology caused poor running form and had not decreased running injuries. His passion to create a shoe that followed the science produced Altra's FootShape™ toe box, Zero Drop™ platform and Fit4Her™ female-specific shoes. Since its founding in 2011, Harper and co-founder Brian Beckstead have grown Altra from one to 30 shoe styles, winning multiple Editor's Choice awards and distribution in more than 60 countries. Join the conversation @AltraRunning and #ZeroLimits on Twitter, Instagram and Facebook.
Media Contact: Colleen Logan, VP Marketing, clogan@iconfitness.com
Photo Caption: Altra Elite Kaci Lickteig finishes 10th female at the legendary Ultra Trail du Mont-Blanc.