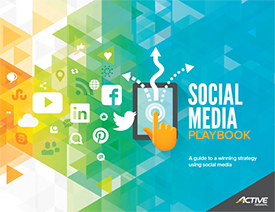 ACTIVE Network today announced the availability of a Social Media Playbook for the endurance industry that provides best practices as well as tips and tricks for developing a winning social media strategy. The Playbook outlines the intent of the major social media channels and offers ideas on what to post/tweet before, during, and after an event.
Endurance event directors will learn:
– How to diagram a social media strategy
– Specific plays for Facebook, Twitter, YouTube and Pinterest
– How to measure results
The playbook is available as a free download from the ACTIVE Endurance website and will be available at the upcoming 2014 Running USA Conference.
Also, during the 2014 Running USA conference, ACTIVE Network will lead discussions around social media, networking, and key learnings from triathlon events that can be adapted for running events. See the schedule for the sold-out 2014 Running USA Conference here.
###