ACTIVE Insight into the IRONMAN World Championship
December 10, 2018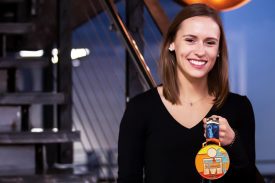 By Elizabeth Grimsley
IRONMAN is a global brand, widely recognized not just to those in the endurance realm but casual sports fans as well—and other race organizations can learn from its success.
While many use the IRONMAN moniker to indicate any 140.6-distance race, an IRONMAN is unique unto itself. The M-dot branded races set themselves apart in more ways than one, making them aspirational not just for race directors of other full-distance triathlons but directors of any race at all.
IRONMAN sets itself apart thanks to collaboration, communication and consistency, and race directors can use some of these observations to help improve their own races as well. ACTIVE Network technical account manager Erin Swiatek raced at the world championship in Kailua-Kona, Hawaii, this year and noted "there's just a status quo of excellence and perfection with this event," Swiatek says. "There's a certain amount of structure and expectation."
ACTIVE Network sat down with Swiatek to explore her first-hand experience at the IRONMAN World Championship and discuss three insights other race organizers can replicate at their own events.
Focus on Collaboration to Create a Comprehensive User Experience
The volunteers keep the race operating like a well-oiled machine–each one is trained to know exactly what to do, where to go and how to handle any issues that might arise, leaving no question in the athletes' minds about, well, anything. At other races, many volunteers show up, receive their free T-shirt and sit through a 15-minute briefing before being sent on their way.
"There's no walking around wondering what you're supposed to do," Swiatek says about IRONMAN. "There's an expectation that the volunteers are going to perform at a certain level and then preparing them to be able to perform at that level. That makes a very big difference."
Increase Key Communication to Stay Connected to Participants
Swiatek also notes a difference in communication from IRONMAN. "[At other races], you normally sign up, and then you're pretty much disengaged until you go to packet pickup," she says. "IRONMAN doesn't spam you with emails, but they do keep you updated and reach out with things you might need to be thinking about. You usually even get a welcome letter from the mayor of the town."
Remain Consistent in Practice to Achieve Expectations
The final, and perhaps most important factor for athletes, is the consistency not just across IRONMAN races but within a single race as well. One seemingly inconsequential example Swiatek notes is the consistent order of the aid stations throughout the course.
Athletes can experience a wide range of difficulties when it comes to refueling during a race—whether that means completely missing the aid station because it's poorly marked or having "WATER!" shouted at you only to pick up a cup filled to the brim with Gatorade. But at an IRONMAN, "you know you're going to come up on water, Gatorade, bananas, gels, Gatorade, water," Swiatek says. "The more you can set the standard and expectations, the better experience participants are going to have."
IRONMAN is the pinnacle of endurance sports, and Kona is the pinnacle of IRONMAN. That's why all these athletes strive for the near-impossible year in and year out just for a chance to toe the line on the dock of Kailua Bay despite all the hard work and effort it takes to get there.