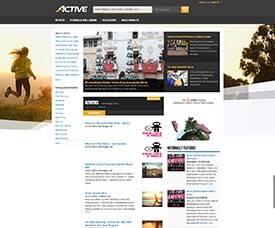 ACTIVE Network Unveils a New Look, Proactive Event Notifications, and Personalized Activity Feeds Live Across North America
SAN DIEGO, Calif. — July 29, 2013 —The ACTIVE Network, Inc. (NYSE:ACTV), the leader in cloud-based Activity and Participant Management™ (APM) solutions, announced the rollout of the new look and functionality of ACTIVE.com. For more than a decade, millions of athletes have turned to ACTIVE.com to find and register for activities for themselves and their families, including races, team sports, youth classes, and more. ACTIVE.com has also been a leading destination for valuable information on nutrition, fitness, and endurance training. The latest release of ACTIVE.com wraps personalized race feeds, custom alerts, and all new fitness-training guides into its striking new design.
"ACTIVE.com has proven to be a leading destination for millions of people who have been inspired to get active in whatever is meaningful to them – from first-time 5K participants to seasoned triathletes, the site supports a growing community of active individuals," said Bob Bennett, Vice President & General Manager of Consumer Products, ACTIVE Network. "With more than 150,000 activities accessible through a sleek new interface, ACTIVE.com takes the next step in making the world a more active place by easily connecting people with the things they love to do."
Featured Enhancements
The new site features a range of enhancements, including:
Activity and race feeds personalized for individual users
Race registration alerts reminders so enthusiasts never miss a race
Training guides for event and race day preparation
The redesign of ACTIVE.com follows the recent achievements of the award-winning application, Couch-to-5K from ACTIVE Network, which won "Best Mobile App" in 2012 from the WebAwards and "Best Health Care and Fitness App" in 2012 from the Appy Awards.
ACTIVE Network celebrated the new look of ACTIVE.com during an event at the 2013 Solana Beach Triathlon on July 28, where more than 200 employees of ACTIVE Network showcased the company's fundraising efforts for the Kids in the Game and raced together with the winner of the ACTIVE.com fan appreciation sweepstakes, Helen Cannon.
"ACTIVE.com is my link to the racing community and resource for information important to me, such as health and injury prevention," said Helen Cannon, ACTIVE.com sweepstakes winner and long-time community member. "The re-launch is exciting, and I was thrilled to celebrate by running with the ACTIVE team."
About ACTIVE Network
ACTIVE Network is the leading provider of Activity and Participant Management™ solutions. Our technology platform makes managing and operating all types of activities, events and organizations smarter and more efficient. We power over 55,000 global customers and build the best vertical technology applications for each market we serve. Our leading ACTIVE Works cloud platform scales with our customers, large and small. ACTIVE Network was founded in 1999, is headquartered in San Diego, California, and has offices worldwide.
About Forward-Looking Statements
The Active Network, Inc. cautions you that the statements included in this press release that are not a description of historical facts are forward-looking statements within the meaning of the federal securities laws. Any such statements are subject to substantial risks and uncertainties, and actual results may differ materially from those expressed in these forward-looking statements. More detailed information about The Active Network, Inc. and the risks and uncertainties that may affect the realization of these forward-looking statements is set forth in its filings with the Securities and Exchange Commission (SEC). These filings may be read free of charge on the SEC's website at www.sec.gov. You are cautioned not to place undue reliance on these forward-looking statements, which speak only as of the date hereof. All forward-looking statements are qualified in their entirety by this cautionary statement and The Active Network, Inc. undertakes no obligation to revise or update this press release to reflect events or circumstances after the date hereof.
###
© 2013 The Active Network, Inc. All rights reserved. ACTIVE.com, ActiveWorks, are registered trademarks of The Active Network, Inc. ACTIVE Network, Activity and Participant Management is a trademark of The Active Network, Inc. All other trademarks are the property of their respective owners.

Media Contact:
Kathy Bricaud, ACTIVE Network
858.450.8877
Hi-res screenshots available through media contact.