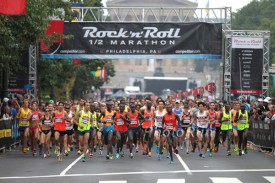 More than 100 elites to toe the start line of the 38th annual half marathon on Saturday, Oct. 31
PHILADELPHIA, PA – October 30, 2015 – For some, the road to the 2016 Summer Olympics in Rio begins at this Saturday's AACR Rock 'n' Roll Philadelphia Half Marathon. The flat and fast course paired with the near-perfect fall weather that's been forecasted should set the right conditions for the race's pros to run times that can earn them a qualifying slot for the U.S. Olympic Marathon Trials next February in Los Angeles.
One such runner who will toe the start line on Philadelphia's Benjamin Franklin Parkway is 24-year-old Louis Serafini. The Brighton, Massachusetts resident has been on a tear lately. Earlier this month, at the Mohawk-Hudson River Half Marathon, Serafini came within 48 seconds of the qualifying mark for the Trials (1:05:00) and is hopeful of making up that time on Saturday.
"The training and racing have been very good up to this point," he admits. "I want to race smart, of course. That is always a goal of mine. I don't really care as much about place. That's something that I'll try to focus on with 2-3 miles to go."
Though he boasts an impressive half-marathon time, Serafini isn't billed as the top competitor in Philadelphia. In fact, he'll be wearing bib No. 46 on Saturday and is a bit of a dark horse heading into it. The Boston College graduate ran a 14:39 for the 5,000m while attending school there—not a particularly competitive time for a Division I runner. He now works as a manager at Heartbreak Hill Running Company located at the famous Boston Marathon landmark—a fitting metaphor for the uphill challenge he's faced as a professional runner.
"I love the idea of being a 'blue-collar' runner," he says. "You grind out the miles, you do the work, and you see the results." Serafini admits that he's been putting in grueling 100-plus mile training weeks (eight in a row) and attributes some of his success to an unusual training routine: eggs and beer. "I eat two eggs after every morning run and drink two beers at the end of my really high mileage days," he says.
Regardless how Serafini does on Saturday, he admits he's enjoying himself and looking at the big picture. "I am just so happy to be healthy and running well," he says. "For now I am taking it one day at a time, and appreciating how lucky I am to have found success and joy in running.
Besides Serafini, a deep field of fellow elites will be taking to the streets of Philadelphia that include Bobby Curtis, a 61-minute half-marathoner and local favorite who attended Villanova. Along with Curtis is Timothy Ritchie who boasts 1:02 for the 13.1-mile distance.
The women's field at the AACR Rock 'n' Roll Philadelphia Half Marathon is just as competitive. In the running for the win is 35-year-old Brianne Nelson who set a 1:10:16 personal best in Houston in January. Nelson's main rival will be Neely Spence-Gracey, the Grandma's Half Marathon champion earlier this year. Other names include 41-year-old Jen Rhines, a three-time Olympian who has run 1:11:14 (Houston 2011) and placed second here in 2003.
And then there's Flagstaff, Ariz.-based runner Kellyn Taylor, who is looking to cap off what has been a sensational 2015 in the longer distances. She's set PRs in the 10,000m (32:29.88-track), Half Marathon (1:11:46) and in the Marathon (2:28:40), as well as winning the bronze medal this past summer at the Pan American Games in Canada.
Elites aside, thousands of costumed runners will also toe the line at the start on Saturday in front of Philadelphia's iconic Art Museum on Halloween. The AACR Rock 'n' Roll Philadelphia Half Marathon is typically held in September, but was postponed due to the Pope's visit to the city last month. Throughout the race, runners will get the chance to admire the brilliant fall colors in the "City of Brotherly Love" as they run along the city's scenic Schuylkill River.
About the American Association for Cancer Research Rock 'n' Roll Philadelphia
The American Association for Cancer Research (AACR) Rock 'n' Roll Philadelphia Half Marathon will be held on Saturday, October 31, 2015. One of the world's most prestigious road races, the AACR Rock 'n' Roll Philadelphia is the home of five World Records, five American records and the current men's and women's U.S. all-comers' records. The race will feature live bands and entertainment along the course, with a beer garden and concert at the finish line.
Event weekend kicks off with a free Health & Fitness Expo at the Pennsylvania Convention Center, where exhibitors will offer free samples, the latest in running apparel and a full schedule of interactive clinics. The race will start and finish at Eakins Oval directly in front of the Philadelphia Museum of Art. For more information, visit RunRocknRoll.com or follow @RunRocknRoll on Twitter. 
Download: Men's Elite Start List / Women's Elite Start List / 2015 Event Logo
# # #