9th annual Campagnolo GFNY World Championship NYC is again the most international bike race with riders representing 100 countries
May 23, 2019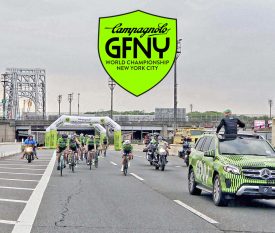 5000 riders lined up on the George Washington Bridge to take on the challenging course through New York and New Jersey
NEW YORK CITY, May 23, 2019 – A controversial men's finish saw US National Mountain bike champ Jeremiah Bishop take his first GFNY World Championship title. 2018 runner up, American Jill Patterson, dethroned Colombian Camila Cortes to take her first title last Sunday, May 19th.
The ninth running of the Campagnolo GFNY World Championship represented a sensational finale of twenty events on four continents of the 2019-2020 GFNY World cycling marathon series. Perfect weather conditions promised a chance for fast times and records to be broken.
The race was broadcast live for over 6 hours so fans and family from around the globe could tune in to watch the action.
In the men's race, an aggressive start from George Washington Bridge was led by impatient young Brooklynite, Ben Gorodetsky, who shot forward as the race swung through Fort Lee and into Palisade Interstate Park.
Gorodetsky's time in the spotlight did not last long as US National Mountain bike champ, Jeremiah Bishop, and Colombian Daniel Hernandez took charge on Alpine Hill. Both were quickly swallowed up by a large peloton containing Gorodetsky and last year's King of Bear, Cedric Haas of France.
Last year, Haas had a solo attack on Bear. This year, he had company with Gorodetsky and created a break of almost three minutes from the chase group as they wound their way up the mountain. On the final steep climb up Perkins, Gorodetsky cracked, leaving Haas once again to assail Bear solo.
Haas made it all the way to Cheescote at mile sixty before being swallowed up by a group of fifteen riders, including former GFNY winner Ricardo Pichetta (Italy). The group then splintered when Hernandez and German powerhouse and GFNY European Champion, Jochen Wallenborn (Germany), launched a sustained attack leaving the field in pieces. Quick to react, Pichetta and Bishop worked together, and by mile seventy-five had bridged up to the two leaders.
With twenty-five miles left, the four riders, Pichetta (IT), Wallenborn (DE), Hernandez (CO) and Bishop (US) worked together, each vying for the win. Turning back toward Alpine, victory was anyone's for the taking. But at the final Dyckman Hill climb with 3km to go, Hernandez cracked. He was followed by Wallenborn leaving the title in the hands of Pichetta and Bishop.
On the final straight, Pichetta's instincts took over and he closed the gate on the chasing Bishop, forcing Bishop into an arch. To avoid crashing, Bishop was left with no choice but to sit up and stop his sprint. Because of this dangerous move, race officials relegated Pichetta to second place, leaving Jeremiah Bishop the winner in the time of 4:19:26. Pichetta was second (4:19:26) and Wallenborn third (4:19:28).
In the women's race, it was a surprise end to the 'queen' of GFNY, Camila Cortes' reign. Last year's runner up, American Jill Patterson, returned for a rematch and was looking for her first win, while Cortes was looking to extend her five-year domination and seeking her 13th GFNY victory after winning the GFNY Latin American Championship in March.
Cortes steadily led through Bear Mountain, but on the return to Fort Lee, Patterson's determination was unrelenting. She took charge, made the pass and never looked back.
Patterson took the win in a new record time of 4:31:29, Cortes followed second (4:31:35). Rounding out the podium, GFNY European Champion, German Janine Meyer, crossed in 4:31:41 to make the most competitive women's finish in GFNY's history.
Next up is the inaugural GFNY North America Championship Santa Fe on June 23.
About GFNY
GFNY is the global cycling marathon brand with events held in NYC, Argentina, Bali-Indonesia, Brazil, Chile, Colombia, Costa Rica, Ecuador, Italy, Jerusalem-Israel, Indonesia, Cozumel-Mexico, Monterrey-Mexico, Panama, Philippines, Portugal, República Dominicana, Santa Fe-USA and Uruguay.
Riders get to BE A PRO FOR A DAY by competing against others, themselves and the clock in a personal endurance challenge.
At all GFNY events, riders have the chance to qualify for the elite racer corral at the GFNY World Championship in NYC by placing in the top 10% (20% at regional championships) of their age group.
Campagnolo GFNY World Championship NYC
The 10th annual Campagnolo GFNY World Championship New York will be held on May 17, 2020. The race features the world's most international peloton with riders from 100 countries. Athletes take on a challenging 100-mile route from NYC to Bear Mountain to Fort Lee to compete against each other, the clock and themselves in a personal endurance challenge.
GFNY World 2019/20 calendar
23 June GFNY SANTA FE
7 July GFNY COSTA RICA 
4 August GFNY BRASIL
8 September GFNY EUROPE CHAMPIONSHIP PORTUGAL
22 September GFNY PHILIPPINES
12 October GFNY ECUADOR
20 October GFNY PANAMA
3 November GFNY ARGENTINA
10 November GFNY COZUMEL-MEXICO 
24 November GFNY CHILE
23 February 2020 GFNY BALI
8 March 2020 GFNY MONTERREY
15 March 2020 GFNY SOUTH AMERICA CHAMPIONSHIP URUGUAY
22 March 2020 GFNY COLOMBIA
29 March 2020 GFNY ITALIA
29 March 2020 GFNY REPUBLICA DOMINICANA
24 April 2020 GFNY MIDDLE EAST – AFRICA CHAMPIONSHIP JERUSALEM
17 May 2020 GFNY WORLD CHAMPIONSHIP NYC
Further Material for Media Use
GFNY NYC 2019 photos: here
GFNY NYC 2019 race video: here
GFNY NYC 2019 results: here
GFNY World calendar graphic: here
Previous GFNY press releases: here
GFNY photo archive (credit SPORTOGRAF): here
Media Contact
Gran Fondo New York Inc.
Emma Bishop, emma@gfny.com
Uli Fluhme, uli@gfny.com