8th Campagnolo GFNY World Championship set to be the most competitive ever
May 16, 2018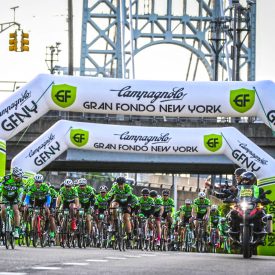 Professionals, elites and age groupers from 95 countries to take on New York City for the world's most international bike race this Sunday, May 20
NEW YORK CITY, May 16, 2018 – The eighth annual international Campagnolo GFNY World Championship NYC is set to be the most competitive in the eight-year history of the event. Sunday's race represents a culmination of a season of 16 GFNY World races that were held around the globe,
Professional and elite riders from all over the world are ready to bring the title home while NYC's elites are representing in full with the intention to keep the crown in its home town.
Race Day
GFNY is where everyone gets to Be a Pro For a Day®. On Sunday, May 20, riders will take on a challenging 100-mile route with 8,500 feet of climbing starting on the New York City side of the iconic George Washington Bridge at 7 a.m. and wind along the course in New Jersey and New York State that extends up to New York's Bear Mountain State Park, with the finish line in Fort Lee, NJ.
15% of the field takes on the non-competitive 50-mile GFNY BEAR, a test that many riders use as a stepping-stone for tackling the GFNY 100 the following year.
Throughout race week GFNY.com will feature a selection of inspiring human-interest stories and shine a deserving spotlight on some hand picked age groupers that have a special reason to take on 100 miles. For some it is to overcome adversity or inspire others. Whatever the age grouper reason for riding, the common goal is to always have fun.
"This year's race for the Campagnolo GFNY World Championship crown is set to be the most competitive in GFNY's eight year history," said Uli Fluhme, CEO of GFNY. "Several pros and elite riders from around the world and a host of local elite teams will make this Sunday a very exciting day of racing. Being able to offer a live broadcast at gfny.com/live will make sure anyone can follow the show."
WOMEN'S Preview
4-time GFNY NYC winner and 10-time GFNY champion Camila Cortes from Colombia shows no signs of slowing down and is the woman to beat. While 2018 runner-up Marcella Toldi (Brasil) decided not to race, her countrywoman and last year's third place Maria Giannella as well as fourth place finisher Heather Low (Canada) are back giving Camila a run for her money. GFNY Asian Championship winner Shirley Teo and GFNY LatAm Championship winner Veronica Leal are other notable contenders.
MEN'S Preview
Defending champion Riccardo Pichetta of Italy is back along with a host of former champions who are all capable of taking the 2018 Championship.
Mexican Luis Lemus of pro team Israel Cycling Academy is no stranger to GFNY. In 2015, he won GFNY Cozumel before becoming an Olympian at the Rio games. Lemus' cousin Flavio De Luna (GFNY champ in Mexico City and Cozumel in 2016 and 2017) knows the GFNY NYC course well with a strong ride last year.
Dan Craven from Namibia might be best known for tweeting from the peloton at the Olympic games in 2016 and jumping into the time trial on a day's notice. But he's also world's most traveled pro and has plenty of world tour racing experience. The GFNY course should suit him perfectly and he's coming fresh off winning the UCI 2.2 Tour du Senegal.
For NYC, Rockstar Games Racing Team is lining up with a full team to better Victor Gras' second place finish from 2017. Team Weather Channel is back in full force after a crash took out some of their guys last year which left 2016 champ Mike Margarite back in the peloton and miss out on the key race move. This year, he's bringing a bunch of Weather Channel domestiques.
Colombia is represented in full force with GFNY Colombia champ Antonio Donado leading a host of compatriots who are keen to bring the men's crown home.
GFNY Asian Championship winner Raziff Jaafar and GFNY Middle East-Africa Championship winner Jürgen Moreels have gotten a taste of winning Regional GFNY Championships and now have theirs sights on winning the Campagnolo GFNY World Championship.
Podium finishers overall as well as in age groups and team categories will take home prizes. The overall winners receive a GFNY De Rosa bike with Campagnolo components valued at $13,000.
Live race day coverage starts at 6am EST on gfny.com/live.
Ensuring a Fair Race
Since 2012, GFNY administers in- and out of competition doping controls that ensure a fair competition. GFNY was the first amateur event to hold out-of-competition controls (=not on race day). These controls are critical to serve the element of surprise. GFNY CEO Fluhme is also a Board Member of USA Cycling Federation's Anti-Doping Committee.
Like last year, GFNY will also do checks for motors on bikes at the start and finish lines of the race.
GFNY Café & Welcome Zone
Introduced last year, the GFNY Welcome Zone & Café will serve as a gathering place for riders before or after a ride on the GFNY course. It will be open from Wednesday, May 16 to Saturday, May 19 from 8am – 3pm each day at the GFNY Finish Village in Fort Lee (PIP Park, Fort Lee NJ).
The GFNY Café and Welcome Zone will also be open on race day, Sunday, May 20 from 8am – 6pm to welcome spectators, and families and friends of GFNY cyclists.
There is a full day of activities scheduled at the GFNY Welcome Zone, from pre-race GFNY Group Rides, to Sports Massage to complete mechanical service.
NYC Bike Expo
The eighth annual New York City Bike Expo will take place on May 18-19, 2018 from 11am-7pm (Friday) and 11am – 5pm (Saturday) at Penn Pavilion, 401 Seventh Ave between 32nd St & 33rd St (401 Seventh Avenue). GFNY World events, GFNY Apparel, GFNY Sunglasses, race sponsors and other vendors will be on hand to showcase their latest offerings. The expo is a stand-alone event organized by GFNY that is open to the public and draws nearly 15,000 visitors.
GFNY Cycling Apparel
GFNY Apparel is produced in the world's leading cycling apparel factory using fabrics that react to your body and wick away moisture from your skin. 100% Made in Italy, decades of experience in cutting and sewing cycling clothing produces the ideal fit while using the newest high-tech fabrics.
GFNY has also expanded the offering of GFNY's casual apparel and gear options, like track jackets, gear backpacks, medal hanger, and more.
GFNY Sunglasses
GFNY Sunglasses are the perfect complement to GFNY Apparel. GFNY Sunglasses are available in three striking styles: GFNY SPEED, the technical cycling glasses, and GFNY Podium and GFNY Riviera for casual everyday use. GFNY Sunglasses are all 100% Made in Italy, handcrafted with every detail in mind and technical innovation.
GFNY 3x and 10x medals
GFNY now offers two types of Multi-Finisher medals. The first is a '3-timer 2018' medal that awards riders who finish three GFNYs in 2018.
The second is an "All-Time" medal that awards riders who have accumulated 10, 20, 30, and 40 GFNY finishes, ever. Each medal has a letter of GFNY and upon completing 40 GFNYs, a rider can complete the set of G-F-N-Y. The multi-medal series also contains GFNY's slogan: "Be a Pro For a Day".
GFNY Coffee
GFNY Coffee is made only with 100% prime grade pure Colombian beans, roasted, and steel cut ground in a way that honors Colombia's rich coffee heritage. GFNY Coffee will be available for purchase and to try at the NYC Bike Expo lounge and at the GFNY Welcome Zone.
GFNY Rider Technology Platform
Available early summer, the GFNY technology platform with rider accounts enables every rider who has ever taken part in a GFNY World event since the inaugural GFNY the ability to create or claim their GFNY account, see past GFNY results, and check progress to multi-finisher medals like the 10x medal or the 3×2018 medal. They can also check qualification status for GFNY NYC and register for any and every GFNY World race. Registration is available in 30 languages.
GFNY WORLD events bring GFNY Cycling to other fantastic destinations. A similar rider and family experience and a common set of rules are the foundation of GFNY. Riders have a chance to qualify for the elite racer corral at the GFNY World Championship in NYC by placing in the top 10% of their age group at a GFNY World race and in the top 20% at regional and world championship races.
About GFNY
GFNY is the global cycling marathon brand with events held in NYC, Bali-Indonesia, Brazil, Chile, Colombia, Costa Rica, Germany, República Dominicana, Samosir-Indonesia, Jerusalem-Israel, Cozumel-Mexico, Monterrey-Mexico, Panama, Philippines, Poland, Portugal and Uruguay.
Riders get to BE A PRO FOR A DAY by competing against others, themselves and the clock in a personal endurance challenge.
At all GFNY events, riders have the chance to qualify for the elite racer corral at the GFNY World Championship in NYC by placing in the top 10% (20% at regional championships) of their age group.
Campagnolo GFNY World Championship NYC
The 9th annual Campagnolo GFNY World Championship New York will be held on May 19, 2019. The race features the world's most international peloton with riders from over 90 countries. Athletes take on a challenging 100-mile route from NYC to Bear Mountain to Fort Lee to compete against each other, the clock and themselves in a personal endurance challenge.
The official GFNY website is: www.gfny.com.
Find the complete GFNY media kit HERE.
GFNY World 2018 calendar
20 May GFNY WORLD CHAMPIONSHIP NYC
27 May GFNY POLSKA-GDYNIA
5 August GFNY BRASIL
2 September GFNY EUROPE CHAMPIONSHIP DEUTSCHLAND 
2 September GFNY ASIA CHAMPIONSHIP INDONESIA-SAMOSIR
9 September GFNY PORTUGAL
21 October GFNY PANAMA
11 November GFNY COZUMEL-MEXICO 
25 November GFNY CHILE
GFNY World 2019 calendar
20 January GFNY PHILIPPINES
25 February GFNY BALI
17 March GFNY MONTERREY
17 March GFNY URUGUAY
24 March GFNY LATIN AMERICA CHAMPIONSHIP COLOMBIA
7 April GFNY REPUBLICA DOMINICANA
3 May GFNY MIDDLE EAST – AFRICA CHAMPIONSHIP JERUSALEM
7 July GFNY COSTA RICA
Further Material for Media Use
GFNY NYC photos: here
GFNY NYC video: here
GFNY World calendar graphic: here
Previous GFNY press releases: here
GFNY photo archive (credit SPORTOGRAF): here
Media Contact
Gran Fondo New York Inc.
Uli Fluhme
Phone: +1.212.933.4033
Email address: uli@gfny.com