6th Annual International Campagnolo GFNY Championship NYC
May 11, 2016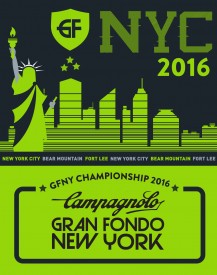 5,000 riders from 86 countries compete for the GFNY crown and to challenge themselves
NEW YORK CITY, May 11, 2016 – The sixth annual international Campagnolo GFNY Championship NYC is slated for this Sunday, May 15, 2016. The world's most international cycling event brings riders from 86 countries to the world's capital. It's the culmination of GFNY World races around the globe, held in Argentina, Colombia, Cozumel-Mexico, France, Germany, Indonesia, Italy, Mexico City and Uruguay. Further races will be added in 2017.
Athletes will take on a challenging 100-mile route with 8,500 feet of climbing from NYC to Bear Mountain and back. It sets the scene for 5,000 stories to be carried around the world. GFNY is a race as much as a personal endurance challenge.
"GFNY offers cyclists a challenging, dramatic and scenic racing experience building on the already thriving cycling culture in the metropolitan NYC area," said Lidia Fluhme, co-founder and President of Campagnolo Gran Fondo New York. "GFNY has become globally recognized as a quality brand in competitive cycling. We are very excited to create so much global, national and local interest."
The race draws a spectrum of elite racers, celebrities and enthusiasts including CEOs, firefighters, teachers, persons with disabilities and many others passionate about the sport and the experience of riding the challenging and scenic course.
NFL superstars Amani Toomer and Tony Richardson plan to settle the "New York Giants vs New York Jets" rivalry on the bike. Olympians Stacey Cook (Alpine Skiing), Nelson Vails (Track Cycling) and Alex Deibold (Snowboard) will test their mettle on a different turf.
Race Day
On Sunday May 15, riders will begin on the New York City side of the iconic George Washington Bridge at 7 a.m. and wind through the course in New Jersey and New York State that extends up at New York's Bear Mountain State Park, with the finish line in Fort Lee, NJ.
"Fort Lee is thrilled to host the race finish and to welcome riders from near and far to celebrate their hard-earned achievements in our town," said Fort Lee Mayor Mark Sokolich. "Cycling has become part of Fort Lee's culture and events like GFNY are economic drivers for our communities and local businesses."
15% of the field partakes in the 50-mile GFNY BEAR on the same day, a non-competitive ride starting at the George Washington Bridge and finishing on Bear Mountain. Many of these riders use GFNY BEAR as a stepping-stone towards completing the 100-mile GFNY in the future.
"We recognize that it is a privilege to stage an event of this magnitude in the New York metropolitan area," said Uli Fluhme, CEO of GFNY. "The extraordinary effort and support of the municipalities along the route, the various government agencies in New York and New Jersey, and especially local police forces managing the safety aspect for riders and spectators, truly makes this event a success."
The course highlight is the scenic and rigorous Bear Mountain. Riders will get a boost from cheering spectators in the Rockland County and Bergen County towns that the course travels through. The event draws enthusiastic supporters along the route, especially with many GFNY cyclists fundraising for local charities.
Podium finishers overall as well as in all age groups and team categories will take home prizes. The overall winners receive a GFNY De Rosa bike with Campagnolo components valued at $13,000.
Ensuring a Fair Race 
Since 2012, GFNY hires the United States Anti Doping Agency (USADA) to administer in- and out of competition doping controls that ensure a fair competition. GFNY was the first amateur event to hold out of competition controls (=not on race day). These controls are critical to serve the surprise element. GFNY CEO Fluhme is also a Board Member of the newly-founded Anti-doping Panel of the USA Cycling Federation.
Like last year, GFNY will also do checks for motors on bikes at the start and finish.
NYC Bike Expo
In addition to the race, the sixth annual NYC Bike Expo will take place on May 13-14 from 11am-6pm at 69th Regiment Armory in Midtown Manhattan at 26th Street and Lexington Avenue. GFNY World events, race sponsors and other vendors will be on hand to showcase their latest offerings. The expo is a stand-alone event organized by GFNY that is open to the public and draws nearly 15,000 visitors.
About GFNY
The 6th annual Campagnolo GFNY Championship New York is held on May 15, 2016. The race features the world's most international peloton with riders from 86 countries. Athletes take on a challenging 100-mile route from NYC to Bear Mountain to Fort Lee to compete against each other, the clock and themselves in a personal endurance challenge.
The 50-mile GFNY BEAR on the same day is a non-competitive ride from NYC to Bear Mountain.
GFNY WORLD events are now held in Italy, Germany, Mexico City, Indonesia, Cozumel, Argentina, Colombia, Uruguay and at Mont Ventoux/France. Riders there have a chance to qualify for the elite racer corral at the GFNY Championship in NYC by placing in the top 10% of their age group.
The official GFNY website is: gfny.com.
GFNY World calendar
May 15, 2016 – GFNY Championship New York – gfny.com
June 26, 2016 – GFNY Mont Ventoux – gfnymontventoux.com
June 26, 2016 – GFNY Mexico City – gfnymexicocity.com
August 28, 2016 – GFNY Deutschland – gfnydeutschland.com
September 18, 2016 – GFNY Italia – gfnyitalia.com
October 2, 2016 – GFNY Indonesia – gfnyindonesia.com
October 30, 2016 – GFNY Argentina – gfnyargentina.com
November 13, 2016 – GFNY Cozumel-Mexico – gfnycozumel.com
March 5, 2017 – GFNY Uruguay – gfnyuruguay.com
April 2017 – CRM GFNY Colombia – gfnycolombia.com
Further Material for Media Use
GFNY World calendar graphic: here
Course Video GFNY Championship 2016: here
Photos GFNY Championship 2015: here
Media Contact
Gran Fondo New York Inc.
Uli Fluhme
Phone: +1.212.933.4033
Email address:  uli@gfny.com