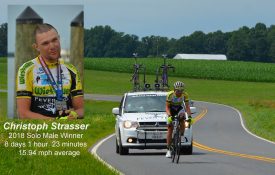 Two Veteran Winners Push Record Speeds
Boulder, CO – Race Across America (RAAM) – the World's Toughest Bicycle Race, concludes its 37th year with two veteran winners. Thirty-two solo racers from nineteen countries lined up in Oceanside, CA and 47% of those racers completed the 3,069-mile race ending in Annapolis, MD.
Christoph Strasser, a veteran racer from Austria, became the second solo male to tally 5 wins. Jure Robic of Slovenia being the other. Strasser pushed his record speed for most of the race, but fell just short. He did race the second fastest speed in RAAM history. He finished in 8 days, 1 hour 23 minutes (19.94mph). His closest competitors were veteran Ralph Diseviscourt (LUX) and rookie Javier Iriberri (SPA). The highest placing American was Michael Conti of Park City, Utah in fourth place .
The 50-59 age group was won by Thomas Haas (AUT), a rookie. He was Followed closely by rookie Christoph Hanle (GER) and RAAM vet Geoff Brunner. Valerio Zamboni (MON) completed his 6th RAAM, winning his second 60-69 age group title.
Nicole Reist of Switzerland claimed the top step of the podium for the women in 9 days 23 hours 57 minutes (12.79 mph). That was her second win and the fifth fastest speed posted by a solo female in RAAM history. Seana Hogan (USA), arguably the greatest RAAM racer in history, placed 2nd overall among women and won her age group (50-59) with a record setting performance. It was a close race all the way to the finish between Hogan and Kathy Roche-Wallace (USA). Both women broke the previous 50-59 age group record. This marks Hogan's 8th RAAM finish, with 6 overall wins. She joined a very elite group of racers to have recorded eight solo finishes, and the only woman to do so. Others include Rob Kish (USA), Wolfgang Fasching (AUT) and Danny Chew (USA).
For 37 years RAAM has been ultra-bicycle racing's world championship event.  RAAM draws competitors from around the globe to test their physical and mental limits in the 3,000-mile coast-to-coast race across the USA. Preparations for 2019 are already well underway. RAAM takes place every June between the Giro d' Italia and the Tour de France.
About RAAM: RAAM and SOUL EVENTS are world leaders in the sport of ultra-bicycle racing.  The team is responsible for the Race Across America (RAAM), the world's premier ultra-cycling race, a 3,000-mile coast-to-coast race across the USA, as well as the Race Across the West (RAW), a 900-mile race across the Western US, the RAAM Challenge Series, and the 6-12-24 Hour World Time Trial Championships. In addition, they offer seminars on ultra-bicycle racing and sanction ultra-bicycle races worldwide. Visit www.raceacrossamerica.org.  Facebook, Instagram (@raceacrossamerica) and Twitter (@RAAMRaces).
###