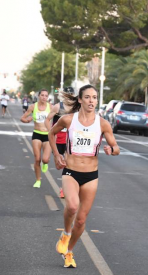 RRCA West Regional One Mile Championships on June 1, 2019 in Tucson, Arizona
With over $3,000 in prize money at stake in multiple races on June 1st, the TMC Meet Me Downtown Night Run has become a popular race among athletes from around the country.  The largest race in Tucson, with over 2000 registrants, features handfuls of regional elite athletes taking aim at course records, time incentives, and team bonuses.
The Road Runners Club of America West Regional One Mile Championship will confer special Championship status for men and women in Open, Over 40, Over 50 and Over 60 age divisions.
"We're proud that we can offer prize money for top athletes," says race director Randy Accetta.  "A lot of races don't support local heroes or regional elites, but we want to help top runners.  We're especially thankful to our title sponsor, Tucson Medical Center, for enabling us to provide a deeper pool of prize money for all age groups."
Accetta continues: "Bring Back the Mile has done some great things for local running," says race director Randy Accetta. "In our case, we've put up an additional $8​00 in prize money in the race director challenge – the fastest runner who beats my glory-days best time of 4:08.9 will win $408.90 – with an equivalent time for women.  Of course, the race takes place in Tucson heat, so if anyone beats that time they're really moving."
In the TMC Meet Me Downtown 5k, runners will seek to break the course records of 14:25, set by Jordan Chipengama (2014) and 17:23, set by Maggie Callahan (2013).
About the RRCA National Championship Series: Since 1958, the RRCA has awarded championship events through a competitive bidding process at the National, Regional, and State level to RRCA member clubs and events to promote the sport of distance running.  The goal of the RRCA Championship Event Series is to shine a spotlight on well-run events and to award top performing runners in the open, masters (40+), grand masters (50+), and senior grand masters (60+) categories for both men and women.
About Run Tucson: Owned by Randy and Tia Accetta, Run Tucson (www.runtucson.net) is a full service event production and coaching entity producing running events in partnership with the Southern Arizona Roadrunners (www.azroadrunners.org) and funded by title sponsor Tucson Medical Center (www.tmcaz.com).  With coaches certified by the Road Runners Club of America (www.rrca.org), Run Tucson owns Arizona's longest-running coached training group, the Workout Group.
About the Southern Arizona Roadrunners: Arizona's largest running club, SAR (www.azroadrunners.org) is a member of the Road Runners Club of America.  The Southern Arizona Roadrunners is a not-for-profit organization dedicated to promoting health and fitness in Tucson and Southern Arizona through running and walking.