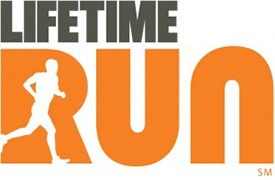 Sponsors enhance runners' training plans and race day experiences with innovative products
CHANHASSEN, Minn.  (July 30, 2014) – Life Time Run, the fastest growing running organization in the country and official running company inside Life Time – The Healthy Way of Life Companysm (NYSE:LTM),  has announced new sponsorship agreements with 2XU, TomTom and CLIF Bar & Company.
"With more than 90,000 runners connected to our Life Time Run community, we are committed to providing our members with the best in retail, tracking and nutrition information and products," said Rebekah Mayer, National Training Manager for Life Time Run.  "We're confident these new sponsors will help as our runners strive to enhance their training plans, race day run experiences and overall healthy way of life goals."
2XU
2XU will be the official compression apparel provider for Life Time Run. The high performance athletic brand helps runners perform stronger and recover smarter through its cutting edge run and compression apparel. 2XU will provide Life Time Run participants with special discounts and outfit Life Time Run coaches with its technical performance sports and compression apparel.
"Since the inception of the 2XU brand, our compression apparel has helped runners of all levels reach their training and competitive goals," said Fred Hernandez, Director of Marketing at 2XU. "Life Time Run programs provide a unique training environment for runners to embrace the sport and we're thrilled to support this vibrant and fast growing run community."
TomTom
As a company that empowers movement, TomTom is the preferred monitoring device for Life Time Run. TomTom's GPS Cardio watches have a built-in heart rate-monitor so runners get more out of every run, without a chest strap. Beyond tracking your heart rate, runners also receive accurate information including distance, time, pace and calories burned, plus users can race themselves by comparing current runs with past performances.
"Aligning with like-minded brands such as Life Time Run further strengthens TomTom's position in the fitness category," said Jocelyn Vigreux, President, TomTom, Inc.  "Working with Life Time Run will help put our GPS watch technology in the hands of people looking to reach their goals. Our hope is that TomTom empowers people to achieve their full potential."
CLIF Bar & Company
CLIF Bar & Company is the exclusive energy bar, gel and chew of Life Time Run and is the presenting sponsor of Life Time Run's new Dawn Patrol program, a series of weekly run workouts that challenge participants' strength and stamina.  In addition, CLIF will provide nutritional support for Life Time Run members and staff.
"We're thrilled to extend our relationship with Life Time to now include Life Time Run", said Andrew Merle, Senior Manager of Sports Marketing at CLIF Bar & Company.  "Crafted for athletes who need sustained energy, CLIF Bar helps Life Time Run participants get the most out of their training and racing."  CLIF Bar also sponsors the Life Time Tri Series and Life Time Tri Team, as well as several other Life Time endurance events.
These organizations join other current Life Time Run sponsors including Toyota, the presenting sponsor of Life Time Run and the proud exclusive automotive partner of Life Time Fitness, and Generation UCAN, the official healthy energy source of Life Time Run.
Life Time Run is offered in more than 60 Life Time destinations across the country and offers social run programs, group training as well as customized training and coaching. . Life Time Run is open to both members and non-members and is free for anyone to join.
For additional information about Life Time Run and its sponsors, visit http://www.lifetimerun.com.
About 2XU
2XU is a world leading sports apparel brand, setting the benchmark in high performance compression. Designed and tested in consultation with industry experts, all 2XU garments employ intelligent physiological design, cutting edge performance fabrics and construction. The premium Australian brand is now stocked in multiple countries around the world.  2XU is worn by professional athletes the world over including the majority of players in the NFL and NBA, as well as by over 40 collegiate athletic teams.
About TomTom
TomTom (TOM2) empowers movement.  Every day millions of people around the world depend on TomTom to make smarter decisions. We design and develop innovative products that make it easy for people to keep moving towards their goals. Best known for being a global leader in navigation and mapping products, TomTom also creates GPS Sport Watches, as well as state-of-the-art fleet management solutions and industry leading location based products.
Our business consists of four customer facing business units: Consumer, Automotive, Licensing and Telematics.
Founded in 1991 and headquartered in Amsterdam, we have 3,600 employees worldwide and sell our products in over 35 countries.
About CLIF Bar & Company
CLIF Bar & Company is a leading maker of nutritious and organic foods and drinks, including CLIF® Bar energy bar, LUNA®, The Whole Nutrition Bar for Women®; and CLIF Kid®, Nourishing Kids in Motion®. Focused on sports nutrition and snacks for adventure, the family and employee-owned company is committed to sustaining its people, brands, business, community and planet. For more information on CLIF Bar & Company, please visit www.CLIFbar.com, check out our Facebook page at www.facebook.com/CLIFbar and follow us on Twitter at: www.twitter.com/CLIFbar.
About Life Time Fitness, Inc.
As The Healthy Way of Life Company, Life Time Fitness (NYSE:LTM) helps organizations, communities and individuals achieve their total health objectives, athletic aspirations and fitness goals by engaging in their areas of interest — or discovering new passions — both inside and outside of Life Time's distinctive and large sports, professional fitness, family recreation and spa destinations, most of which operate 24 hours a day, seven days a week. The Company's Healthy Way of Life approach enables members to achieve this by providing the best programs, people and places of uncompromising quality and value. As of July 30, 2014, the Company operates 112 centers under the LIFE TIME FITNESS® and LIFE TIME ATHLETIC® brands in the United States and Canada. Additional information about Life Time centers, programs and services is available at lifetimefitness.com.
# # #