2nd Annual Asheville Bike Fest Grows to Include Expo, Industry Night, Film Fest, and Gran Fondo
July 19, 2023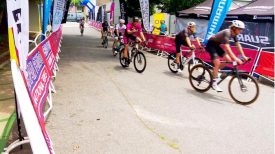 (Gettysburg, PA – July 19, 2023) /ENDURANCE SPORTSWIRE/ – The second annual Asheville Bike Fest, presented by Cane Creek, attracted cyclists from all over the nation to Asheville, North Carolina, on July 14-16. Activities included a cycling expo at Rabbit Rabbit in downtown Asheville, industry night, bicycle-themed film festival, and Sunday's Gran Fondo Asheville cycling event. Gran Fondo Asheville, presented by Applewood Manor, took more than 600 competitors through 30/60/100 mile routes on some of the most scenic landscapes in the US.
The weekend event benefitted non-profit Asheville on Bikes, which advocates for better biking and walking infrastructure in Asheville and the surrounding Western North Carolina region. In addition to showcasing regional cycling-related vendors, Bike Fest featured a pop-up bike park and newspaper delivery competitions.
Gran Fondo Asheville was a qualifier for the USA Cycling Gran Fondo National Championship in Frederick Maryland on September 17th.
"Western North Carolina is one of the most beautiful places on the planet. We have great roads to ride and beautiful scenery and wonderful hills to climb and descend," said Mike Sule, executive director of Asheville on Bikes. "So, in terms of what cyclist are looking for, Asheville and Western North Carolina offers it all."
Reuben Kline, the director of Gran Fondo National Series, said the event is both competitive and recreational, using the Gran Fondo timed section format for those putting their skills to the test.
"Asheville is absolutely amazing, from the cycling infrastructure and culture to the local restaurants and breweries like Oskar Blues," said Reuben Kline, founder and director of Gran Fondo National Series. "Asheville on Bikes, our beneficiary for this event, continues to do a wonderful job advocating for this community and we are proud to support them."
Competition Results
All Gran Fondo National Series events, including Gran Fondo Asheville, use a timed-segment competition format. Standings are calculated based on an athlete's cumulative time through designated timed segment on their respective courses. For Gran Fondo Asheville, there were four timed segments on the Gran Route, three on the Medio Route, and one on the Piccolo Route.
In the 100-mile women's category, Jennifer Thornton-Brooks was fastest with a race time of 1h 19m 52s, ahead of Amy Phillips in second (1h 23m 2s) and Ina Pfuhler in third (1h 24m 35s).
In the 100-men's category, Ethan Burns was fastest with a race time of 1h 10m 5s, ahead of Andrew Knight (1h 10m 9s) and Brendon Sullivan (1h 13m 12s).
In the 60-mile women's category Regan Fink was fastest with a race time of 1h 3m 15s ahead of Valentina Cummings (1h 8m 8s) and Jessica Ingram (1h 14m 10s).
In the 60-mile men's category, Seager Wilson was fastest with a race time of 59m 13s ahead of Daniel Hernandez (1h 20s) in second and Youngblood Haske from (1h 22s) in third.
In the 30-mile women's category Alexandra Diaz was fastest with a race time of 12m 32s, ahead of Lindsey Glover (15m 59s) in second and Emily Ramsayer (17m 19s) in third.
In the 30-mile men's category, Kyle Youmans fastest with a race time of 12m 17s, ahead of Andrew Hill (12m 22s) in second and Giovanni Sanchez (12m 25s) in third.
In team competition, Andrew Knight, Brendan Sullivan and David Anderson from team NGCA P/B TYLER PERRY STUDIOS won in a combined time (with time bonuses for additional team members) of 3h 37m 20s ahead of team GRAVELO RACING & FRIENDS in second and TEMPO CYCLISME in third.
Link to 2023 Gran Fondo Asheville Results: https://www.granfondonationalseries.com/asheville-2023-results
Next up is the Boone Gran Fondo!
The Boone Gran Fondo p/b Capua law Firm on Sunday, August 6th is a great way to escape the summer heat, enjoy quiet mountain roads, and experience Boone's unique downtown environment.
Boone is nestled in the Western Carolina Appalachian Mountains. The scenery is unparalleled with grand vistas stretching over 100 miles. The laid-back atmosphere of this western North Carolina college town is contagious. One of the smaller fields for a Gran Fondo National Series event, the Boone Gran Fondo has a supportive, family feel with great local food.
There are distances of 24, 57, or 95 miles to suit all abilities of cyclists. The rural roller-coaster roads around Boone are a ton of fun, and quite challenging. The climbs aren't very long, but that means there's not a lot of time for recovery on the descents, either. This is a great course for all-around riders.
For more information, please visit: https://www.granfondonationalseries.com/gran-fondo-boone, or click the button below to register now. Registration prices increase on July 28th.
About Gran Fondo National Series (granfondonationalseries.com)
Founded in 2012 by event director Reuben Kline, the Gran Fondo National Series is the largest and most competitive series of gran fondo cycling events in the United States. Gran Fondo National Series was the first series to implement timed-segment racing into US gran fondo events and has crowned Gran Fondo National Champions and Gran Fondo National Series Champions since 2012. Since 2020, Gran Fondo National Series has been the organizer of the official USA Cycling Gran Fondo National Championships.