22nd Annual Chicago Half Marathon and 5K Announces New Partnership with MY FIT KEY
June 6, 2018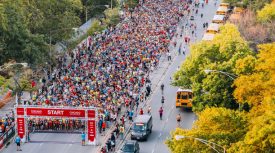 Chicago, June 6 – Life Time — Healthy Way of Life today announced a new partnership for one of its marquee Life Time Events, beginning a two-year presenting sponsorship between MY FIT KEY and the Chicago Half Marathon & 5K.
The 22nd Annual Chicago Half Marathon & 5K Presented by MY FIT KEY, will take place on Sept. 23, 2018 and will introduce the endurance community to DNA testing for athletes.
"More than 12,000 runners from across Chicagoland, the United States and the world join us for a truly unique Chicago event with sweeping views of the famed Chicago skyline and premium race amenities at the Chicago Half Marathon & 5K," said Dan Lakin. Run Brand Manager at Life Time.  "Together with Life Time, the nation's premier healthy living and entertainment brand, MY FIT KEY will help deliver the premium experience that makes the Chicago Half Marathon a signature event in the fall racing season for new and veteran athletes at every level."
Fritz Gartner, President of MY FIT KEY said of the partnership; "MY FIT KEY is excited and proud to sponsor the Chicago Half Marathon & 5K.  This as an ideal opportunity to showcase one of the fall's most anticipated races through one of the country's most beloved cities, and we trust our products and services will help endurance athletes better understand how their DNA impacts their performance."
The Chicago Half Marathon & 5K Presented by MY FIT KEY is the second of two races in the 2018 Chicagoland Half Marathon Series, which also included the May 20 Byline Bank Chicago Spring Half Marathon & 10K.  Participants who complete both half marathon distances will earn a custom, 26.2 Challenge finisher medal at the final event. Currently, more than 1500 athletes are registered for the Series.
Benefiting charity partner Chicago Run, the Chicago Half Marathon & 5K is centered around Chicago's historic Jackson Park, once home to the 1893 World Columbian Exposition. The course highlights Chicago's historic south shore and features a traffic-free Lake Shore Drive–the only Chicago race to completely shut down this main transportation artery.  Runners traverse the streets through Hyde Park and the Museum of Science and Industry before taking on the north and south Lake Shore Drive lanes and finishing at the Statue of the Republic or "Golden Lady" as she's known to locals.
Participants receive a participant shirt commemorating the 125th Anniversary of the World Columbian Exposition, finisher medal (the largest in the midwest) and access to the legendary finish festival featuring a live concert, Lagunitas beer, pizza and more. Registration is $105 for the half-marathon distance and $40 for the 5K, and is available at chicagohalfmarathon.com.
About MY FIT KEY
MY FIT KEY provides DNA testing for athletes.  We help unlock the potential for better training, improved performance, fewer injuries, and optimal recovery through genetic insights.  By marrying the knowledge, practice and standards of medicine with the science of DNA and genomics, we give athletes the tools to reach new levels of achievement, personal empowerment and health. More information is available at www.myfitkey.com
About Life Time® – Healthy Way of Life
Life Time champions a healthy and happy life for its members across 135 destinations in 38 major markets in the U.S. and Canada. As the nation's only Healthy Way of Life brand, Life Time delivers an unmatched athletic resort experience and provides a comprehensive healthy living, healthy aging and healthy entertainment experience that goes well beyond fitness to encompasses the entire spectrum of daily life for individuals, couples and families of all ages. More info is available at www.lifetime.life.