2023 Missoula Marathon to Include Prize Money for Non-Binary Participants
October 11, 2022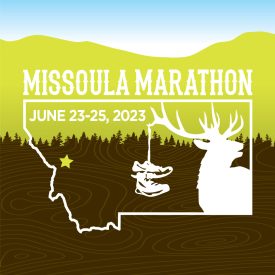 The Missoula Marathon is honoring National Coming Out Day by celebrating the LGBTQ+ community
Missoula, MT. /ENDURANCE SPORTSWIRE/ – The Missoula Marathon, organized by the nonprofit Run Wild Missoula, has long been a leader in celebrating and welcoming the LBGTQ+ community. In 2023, race organizers will back up their commitment to gender inclusion by offering equal prize money for winners of male, female, and non-binary gender divisions. In addition, race organizers are actively working with local and LGBTQ+ community members to ensure the event is inclusive for runners of all gender identities and expressions.
The Missoula Marathon first offered the non-binary gender category in 2022, welcoming all participants to the start line on race day. For 2023, the race is offering prize money for all gender category winners as well as awards for all age group winners.
"Run Wild Missoula and the Missoula Marathon care deeply about all members of our running community," said Trisha Drobeck, Race Director for the Missoula Marathon. "Our goal is to make all participants feel welcomed, safe, respected, and included."
The 2023 Missoula Marathon race weekend will be held June 23-25 in Missoula, Montana. Events include the Missoula Marathon, Missoula Half Marathon, Tony Banovich 5k, and the free Missoula Marathon Beer Run. All events will be open to runners of all gender identities.
About Missoula Marathon
The Missoula Marathon is the brainchild of a group of local, dedicated members of Run Wild Missoula who want to share the area's beauty and Missoula's unique feel with runners from all over. Run Wild Missoula is a non-profit, 501(c)3 running club with the mission to promote and support running and walking for people of all ages, abilities and backgrounds. The Missoula Marathon has regularly been named as one of America's Best Races by the likes of Runner's World, The BibRave 100, and RaceRaves.