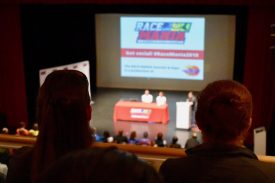 Cycling Coach legend Hunter Allen and "Swim Bike Mom" Meredith Atwood among confirmed speakers
Boston, MA – January 8, 2018 – Sun Multisport Events has announced the initial list of speakers for the 2019 RACE-MANIA Summit & Expo taking place on Sunday, March 24, 2019 at the Boston University Fit Rec Center in Boston, MA. Designed to educate, equip and inspire 2,000+ triathletes, runners, cyclists and swimmers on the eve of a new season, RACE-MANIA features informative and inspirational seminars, clinics and workshops; various competitions; and an expo with 85+ sponsors and exhibitors.
The initial list of speakers confirmed to appear includes:
Hunter Allen – Legendary cycling coach, co-author of  "Training and Racing with a Power Meter" and "Cutting-Edge Cycling", co-developer of TrainingPeaks' WKO+ software, and founder of Peaks Coaching Group
Meredith Atwood — the "Swim Bike Mom", motivational speaker, writer, podcaster, USA Triathlon and Ironman certified coach and founder of Tri*Fe
Bob Fernald – founder of OpenH2O Solutions, world class open water ultramarathon swimmer and completer of the "Triple Crown of Open Water Swimming.
Dina Griffin — owner and founder of The Nutrition Mechanic, Board Certified Sport Dietitian, Registered Dietitian Nutritionist, Certified Level II Metabolic Efficiency Training Specialist
Caroline Kavanagh — owner and founder of InsideOut Human Performance, Certified Level II Metabolic Efficiency Training Specialist and Certified Specialist in Fitness Nutrition
Will Kirousis — founder of Tri-Hard Endurance Coaching, USA Triathlon & USA Cycling Certified Coach, Certified Strength and Conditioning Specialist, Certified Sports Nutritionist
Kristen Lamb — Ironman and USAT certified coach with Breakthrough Performance Coaching, (BPC), 6x Ironman finisher and manager of the BPC Ride Studio (Salem, MA).
Peter Russo – founder, Russo Racing, with coaching certifications from SwimSmooth, US Masters Swimming (Level 2), USA Triathlon (Level 1), Training Peaks (Level 2) and Ironman.
Sue Sotir, Breakthrough Performance Coaching coach with a PhD in Physical Education, USA Triathlon certified coach, National Strength and Conditioning Association member
Vince Vaccaro — Master Chi Running®/Chi Walking® Instructor
Additional speakers will be announced soon including the 2019 RACE-MANIA keynote. Visit the RACE-MANIA website at http://race-mania.com/ for the list of seminars and clinics & workshops presented by the speakers listed above.
RACE-MANIA is produced by Sun Multisport Events and Platinum-level sponsors include Breakthrough Performance Coaching, Marathon Physical Therapy and Sports Medicine, Marathon Sports, Peaks Cycling Group and RaceQuest Travel. Located at 915 Commonwealth Avenue in Boston, MA, Boston University's Fit Rec Center provides state-of-the-art facilities for RACE-MANIA, including 25,000+ square feet for the expo, a high-tech theater for presentations, multiple classrooms for clinics and workshops, an indoor track and a world-class pool.
About Sun Multisport Events (SME): SME is New England's premier, award-winning endurance event production company. SME offers a unique set of events that attracts a diverse set of endurance athletes. In addition to the RACE-MANIA Summit and Expo, SME produces sprint, olympic and half distance multisport races and "Barn to Run", New England's first and only farm-based trail race series. SME won "Best Triathlon Series" (2013) and it's Patriot Half won "Best Small Race" (2017, 2013) in the Triathlete's Choice Awards and "Best Triathlon" in the Best of Competitor 2016 (Northeast). Visit the Sun Multiport Events website to learn more at https://sunmultisportevents.com/
RACE-MANIA exhibitor and attendee inquiries:
Mark Walter
Owner, Sun Multisport Events
Phone: 781-414-0437
Email: info@SunMultisportEvents.com