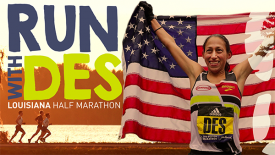 Linden will use the event as a tune-up race in preparation for 2019 Boston Marathon
BATON ROUGE, La. (January 2, 2018) — The FRESHJUNKIE Racing Team announced today that the first American female to win the Boston Marathon in 30 years, Desiree Linden, will compete in The Louisiana Half Marathon on Sunday, January 20, 2019. She will use the race as a tune-up as she prepares for the 2019 Boston Marathon, taking place on Monday, April 15, 2019. Runners and spectators can meet Linden during the Shipt Louisiana Marathon Expo on Friday, January 18, and during a Q&A session with Linden on Sunday, January 20, at The Louisiana Marathon Finish Fest.
This running festival with lagniappe includes a marathon (26.2 miles), half marathon (13.1 miles), quarter marathon (6.55 miles), 5K (3.1 miles) and kids marathon (a 1 mile fun run). The full marathon boasted the highest percentage of Boston Qualifiers for January races last year.
"I'm excited to open my 2019 racing schedule at the Louisiana Half Marathon as an early benchmark for fitness as I work towards my defense of my Boston Marathon title. The Louisiana Marathon always has hosts of athletes take advantage of their fast course and secure their Boston Qualifier, and I look forward to celebrating with them after my own race at half the distance. I'm thrilled to return to the South again for the music, food, and fun," said Desiree Linden.
"We are thrilled to have Des Linden join us for the 2019 race weekend. As she prepares to defend her Boston title by running The Louisiana Half Marathon, she will experience our fast and flat course, winding through downtown Baton Rouge, historic neighborhoods and LSU's campus," said The Louisiana Marathon Strategic Partnerships Director Craig Sweeney.
The three-day running festival, culminating with the nationally-recognized Finish Fest, is a culturally rich event that celebrates both running and the unique culture that defines Louisiana. Runners can expect a fast, flat, and fun race course and then enjoy a true Louisiana Festival featuring local musicians, locally brewed craft beer, and some of the best southern cuisine around.
###
About Desiree Linden
In April of 2018, Des Linden braved headwinds and torrential rain to become the first US women's champion at the Boston Marathon since 1985. Her win was one for the record books as she bested the field and the worst conditions in race history.
Des, a two-time U.S. Olympic Marathoner, finished 7th at the Rio Olympic Games. She got her start at Hilltop High in San Diego suburb Chula Vista, California where she earned All-State honors. Linden attended Arizona State University where she was an All-American in both cross country and track. After graduation, she moved to Rochester, Michigan to join the Hansons Brooks Distance Project. She currently trains in Northern Michigan and continues representing Brooks.
In 2011, Linden wowed the marathon world with her near win at the Boston Marathon. Her runner-up finish, an incredible 2:22:38, set an all-time U.S. record on the Boston course and made her the third-fastest American ever at the time. Linden was named USA Track & Field's Athlete of the Week for her performance.
In 2015, Des participated at the Boston Marathon which featured a strong international field and the top three US marathoners. She finished as top American and held on for a 4th place finish, less than 45 seconds from the win. In doing so, she bested two former Boston champions, a Berlin and Rotterdam Marathon champion, and the World Junior Record Holder.
In the summer of 2015, Des earned a Silver Medal at the Pan-Am Games in the 10,000. In early 2016 she finished 2nd at the US Olympic Marathon Trials in LA, she followed that up with a runner-up performance at the US Half Marathon Championships before heading to the Rio Games. Other career highlights include earning her spot on the US Olympic Team at the 2012 London Summer Games with a runner-up performance at the U.S. Olympic Marathon Trials (2:25:55), a runner-up performance at the 2013 US Half Marathon Champs, 11th at the 2009 Marathon World Championships (2:27:53) and multiple top-five performances at four of the six World Marathon Majors: her Boston runner-up in 2011, a 2nd at the 2010 Chicago Marathon (2:26:20), a 4th at the 2017 Boston Marathon, and 5th place showings at the 2008 Chicago Marathon (2:31:33), 2013 Berlin Marathon (2:29:15) and 2014 NYC Marathon (2:28:11) where she was the top American. Earlier in 2014, she clocked an impressive 2:23:54 in Boston. Most recently, in the fall of 2018, Des won the Rock 'n' Roll Philly Half in 1:11:49 and finished 6th at the New York City Marathon with a swift 1:12:00 back half.
Linden studied psychology at Arizona State University. A self-proclaimed bacon aficionado, her hobbies include reading and writing, collecting assorted whiskeys, drinking Linden & True Coffee, throwing first pitches at Major League ball games, relaxing with her dogs Atlas and Boston, listening to good music and outrunning her husband, fellow marathoner, and Kona veteran, Ryan Linden.
About The Louisiana Marathon
Founded in 2012, the Rendezvous running festival is scheduled for Martin Luther King Jr. weekend and takes place in Louisiana's capital city, Baton Rouge. As a multi-race format there's a race for everyone: marathon (26.2 miles), half marathon (13.1 miles), quarter marathon (6.55 miles), 5K (3.1 miles) and a kids marathon (1 mile). Each year friends, family, and curious spectators line up along miles of picturesque roadways, filled with inspiring Louisiana sights and sounds to cheer on runners from 50 states and more than 32 countries. The Louisiana Marathon course takes runners from downtown Baton Rouge through the University Lakes, the Louisiana State University campus, and through historic river town neighborhoods. To register and for more information: http://thelouisianamarathon.com.