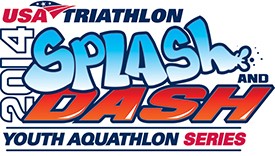 Swim-run events targeting young athletes planned in 50 cities nationwide
COLORADO SPRINGS, Colo. — Fifty swim-run events from across the United States have been named part of the third annual USA Triathlon Splash & Dash Youth Aquathlon Series in 2014, the organization announced today.
The series, which launched in 2012 with 30 events, expanded to 40 events in 2013, and participation grew nearly 50 percent with more than 2,400 young athletes taking part. The events are hosted in each of USA Triathlon's 10 regions, and 28 of the events on the 2014 schedule are returning events after hosting in 2012 or 2013.
Open to young athletes between the ages 7-15, the series focuses on participation and having fun rather than competition, and many of the events are not timed. One of the primary objectives of the series is introducing youth to the multisport lifestyle, and many of the selected events will also offer educational opportunities such as USA Triathlon-sanctioned youth clinics.
The 2014 series kicks off in March and runs through November. USA Triathlon partnered with race directors, community centers, coaches, clubs and parks & recreation departments to solidify the slate of 50 events for the year. The USA Triathlon staff will host one of the events in Colorado Springs, Colo., on Aug. 23.
Participants ages 7-10 will cover a 100-meter swim and a 1-kilometer run, while athletes ages 11-15 will complete a 200m swim and a 2k run. Visit usatriathlon.org/splashanddash for complete information on the series.
2014 USA Triathlon Splash & Dash Youth Aquathlon Series
March 22: Splash and Dash Youth Aquathlon and Wet N' Wild Triathlon, Corpus Christi, Texas
March 22: Greater Marco Family YMCA Youth Splash & Dash, Marco Island, Fla.
April 5: Sailfish Splash and Dash, West Palm Beach, Fla.
April 27: SuperKid Splash and Dash, Santa Cruz, Calif.
May 3: Summerhill Splash & Dash, Athens, Ga.
May 3: E Bomb Splash and Dash, Biloxi, Miss.
May 9: Lil' Aggie Splash and Dash, Las Cruces, N.M.
May 17: FIU Aquathlon, North Miami, Fla.
May 18: Playtri Youth & Juniors Splash n' Dash, Allen, Texas
May 24: USA Triathlon Splash and Dash, Pompano Beach, Fla.
May 31: Madeira Beach Kids Splash & Dash, Madeira Beach, Fla.
May 31: Arlington Triathlon Club Splash & Dash, Arlington, Va.
May 31: Try Kids Tri-Splash and Dash Aquathlon, Louisville, Ky.
May 31: Race Omaha Kid's Splash and Dash, Omaha, Neb.
June 1: Healthy Habits Youth Aquathlon, Biddeford, Maine
June 7: Strive 2 Tri Youth Splash & Dash, College Park, Md.
June 8: San Diego Kids Splash and Dash, San Diego, Calif.
June 8: Grand Rapids Triathlon Youth Splash and Dash, Grand Rapids, Mich.
June 14: Tri-Oswego Splash and Dash, Oswego, N.Y.
June 21: OBX Tri Fest Splash and Dash, Outer Banks, N.C.
June 21: Salamander Splash and Dash, Knoxville, Tenn.
June 28: 2PA Splash and Dash presented by Endorphin Fitness/Peluso Open Water, Richmond, Va.
June 29: Last Chance Splash and Dash, Helena, Mont.
July 12: Third Annual Haka Multisport Youth Splash and Dash, West Lafayette, Ind.
July 13: Menlo Park Kids Splash and Dash, Menlo Park, Calif.
July 13: Tallahassee YTS Splash and Dash, Tallahassee, Fla.
July 16: Green Bay Multisport Splash and Dash, Green Bay, Wis.
July 19: Top Gun Kids Splash & Dash, Tierra Verde, Fla.
July 19: Splash and Dash into Fall, Fort Collins, Colo.
July 19: Lexington's Splash and Dash at Shillito Park, Lexington, Ky.
July 20: Asheville Kids Splash and Dash, Asheville, N.C.
July 20: Camp Mataucha Youth Splash & Dash, Watertown, Ct.
July 23: MMTT Splash and Dash, Geneva, Ill.
July 25: NW YMCA Splash and Dash, Irmo, S.C.
July 26: T3 Multisports Youth Splash and Dash, Round Rock, Texas
Aug. 2: Splash-N-Dash-N-Fun!, Norman, Okla.
Aug. 9: KidFest and Backpack Attack, Decatur, Ill.
Aug. 16: Steamboat Splash and Dash, Steamboat Springs, Colo.
Aug. 17: LPC Kids Splash and Dash, Fletcher, N.C.
Aug. 23: USA Triathlon Youth Splash and Dash, Colorado Springs, Colo.
Aug. 23: Park City Splash and Dash, Bridgeport, Ct.
Aug. 24: MI Titanium Youth Splash and Dash, Belmont, Mich.
Aug. 24: Back to School Splash and Dash, Houston, Texas
Sept. 6-8: Best in the West Triathlon Festival Splash and Dash, Sweet Home, Ore.
Sept. 20: Nor-Cal Juniors Splash & Dash, San Rafael, Calif.
Sept. 20: Boundary Waters Youth Splash and Dash, Douglasville, Ga.
Sept. 21: Third Annual Tri-Valley Kids Splash and Dash, Pleasanton, Calif.
Oct. 5: Kids Splash N Dash at HFFA, Huntersville, N.C.
Oct. 5: I AM FAST Splash & Dash, Indian Harbour Beach, Fla.
Nov. 9: Third Annual Tri-Amphibians Splash and Dash, Long Beach, Calif.
About USA Triathlon Founded in 1982, USA Triathlon is proud to serve as the National Governing Body for triathlon – the fastest growing sport in the U.S. Olympic Movement – as well as duathlon, aquathlon, aquabike, winter triathlon, off-road triathlon and paratriathlon in the United States. USA Triathlon sanctions more than 4,300 races and connects with more than 550,000 members each year, making it the largest multisport organization in the world. In addition to its work with athletes, coaches, and race directors on the grassroots level, USA Triathlon provides leadership and support to elite athletes competing at international events, including International Triathlon Union (ITU) World Championships, Pan American Games and the Summer Olympic Games. USA Triathlon is a proud member of the ITU and the United States Olympic Committee (USOC).