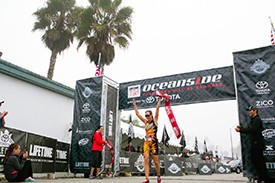 Nearly 1,000 athletes of all abilities to participate in final event of 2014 Life Time Tri Series and Toyota Triple Crown
OCEANSIDE, Calif. (September 24, 2014) — Nearly 1,000 professional and amateur triathletes will descend upon Oceanside, Calif. on Sunday, October 26 to compete in the 2014 Life Time Tri Oceanside, presented by Toyota, in beautiful Oceanside Harbor. The event, produced by Life Time – The Healthy Way of Life Company (NYSE:LTM), is the final event in the 2014 Life Time Tri Series and is also the Toyota Triple Crown Series finale.
"The past two years have been monumental for Life Time in Southern California. 2013 was our inaugural year hosting Life Time Tri Oceanside and in April of this year, we opened Life Time Athletic Laguna Niguel—our first Life Time destination in the state," said Kimo Seymour, vice president, Life Time Athletic Events. "It's exciting to return to Oceanside Harbor for the conclusion of the 2014 Life Time Tri series and to host our Life Time members, new triathletes and, of course, the sport's top professionals at one of the most sought-after triathlon destinations in the world."
Course
Life Time Tri Oceanside will start with a swim in the waters of Oceanside Harbor. Athletes will enjoy an oceanfront transition before starting a bike course along the San Luis Rey Mission Expressway. The run course follows white, sandy beaches allowing for a spectator-fueled finish adjacent at the historic Oceanside Pier. The event offers an International and Sprint distance, as well as relay options and a team challenge, to allow athletes of all abilities to participate in the event.
International Course .93-mile swim | 24.8-mile bike | 6.2-mile run
Sprint Course .25-mile swim | 15-mile bike | 3.1-mile run
Prizes
A cash purse of $450,000 will be presented at Life Time Tri Oceanside including a $50,000 case purse from the Toyota Triple Crown. The 2014 Life Time Tri Pro Series cash purse includes $200,000 in individual race awards and an additional $200,000 awarded to Life Time Tri Pro Series champions crowned at Life Time Tri Oceanside.  To qualify for race awards, pros needed to participate in at least three Life Time Tri events and earn points at a minimum of three and up to five in the 2014 Life Time Tri Series events, including Life Time Tri Oceanside. The top five events will count towards their overall standings and the official finishing times at Life Time Tri Oceanside will serve as a tiebreaker.
Toyota Triple Crown
The updated Toyota Triple Crown Series will award $50,000 to the top professional female or male triathlete with the best overall time who competes in Life Time Tri Minneapolis, New York City Triathlon and Life Time Tri Oceanside.  The Toyota Triple Crown winner will be declared at Life Time Tri Oceanside using an 'equalizer' time handicap format judged by Life Time.
Along with professional athletes from around the world, Life Time Tri events attract more than 25,000 elite and age group athletes each season. For more information and updates on the Life Time Tri series, visit lifetimetri.com, "Like" the Life Time Tri Facebook page or follow us on Twitter. For additional information about Life Time Athletic Events, visit EventsbyLifeTime.com.
* MEDIA NOTE:
For inspiring participant stories and on-site media credentials, please contact Lauren Walsh Forgione at 760-889-2909 or lauren@citruspublicrelations.com.
In addition to the thousands of local amateur and elite triathletes, the following pros from around the world are scheduled to compete:
| | |
| --- | --- |
| Males | Females |
| Greg Bennett | Lauren Barnett |
| Ben Collins | Lauren Brandon |
| Cameron Dye | Paula Findlay |
| Tom Eickelberg | Abby Geurink |
| Kevin Everett | Sarah Haskins |
| Felipe Guedes | Bailey Hinz |
| Yu Hsiao | Alicia Kaye |
| Jim Lubinski | Samantha Kennedy |
| Fernando Toldi | Sara McLarty |
| Kaleb VanOrt | Elizabeth Noey |
| Chris  Wiatr | Jillian Petersen |
| Alex Willis | Nell Rojas |
| Tommy  Zaferes | Lesley Smith |
| | Radka Vodickova |
About Life Time Fitness, Inc.
As The Healthy Way of Life Company, Life Time Fitness (NYSE:LTM) helps organizations, communities and individuals achieve their total health objectives, athletic aspirations and fitness goals by engaging in their areas of interest — or discovering new passions — both inside and outside of Life Time's distinctive and large sports, professional fitness, family recreation and spa destinations, most of which operate 24 hours a day, seven days a week. The Company's Healthy Way of Life approach enables customers to achieve this by providing the best programs, people and places of uncompromising quality and value. As of September, 24, 2014, the Company operated 112 centers under the LIFE TIME FITNESS® and LIFE TIME ATHLETIC® brands in the United States and Canada. Additional information about Life Time centers, programs and services is available at lifetimefitness.com.
About Toyota
Toyota, the world's top automaker and creator of the Prius, is committed to building vehicles for the way people live through its Toyota, Lexus and Scion brands.  Over the past 50 years, the company has built more than 25 million cars and trucks in North America, where Toyota operates 14 manufacturing plants (10 in the U.S.) and directly employ nearly 40,000 people (more than 37,000 in the U.S.).  The company's 1,800 North American dealerships sold more than 2.5 million cars and trucks in 2013 – and about 80 percent of all Toyota vehicles sold over the past 20 years are still on the road today.  (NYSE:TM)  For more information about Toyota, visit www.toyotanewsroom.com.
# # #