1500 GFNY Riders from 30 Countries Took on the Streets of Jerusalem
May 9, 2019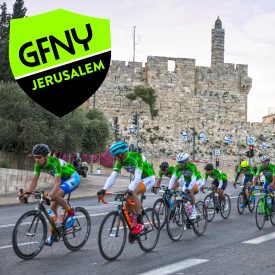 Local riders Hitman and Moran take top honors GFNY Middle East – Africa Championship
NEW YORK CITY, May 9, 2019 – Blue skies and perfect racing conditions set the scene for a successful second edition of the GFNY Middle East – Africa Championship last Friday May 3.
Notably one of the harder GFNY courses on the GFNY World calendar, the 130km route with over 2950 meters of climbing was held on fully closed-to-traffic roads. GFNY Jerusalem started from the Jerusalem Arena and went past historic sites such as The Tower of David, Knesset and Old City Walls. 
Early on in the race it was hard for any rider to make a break due to the technicality of the course inside the city walls. The first opportunity presented itself at 12km into the race when five riders broke away and a chase group of ten riders formed.
Upon entering the Jerusalem Hills, the lead group of five gained further time but was quickly reduced to two, when the other riders could not maintain the pace set by locals Aaron Hitman and Tom Itzahki.
A mechanical on Itzahki's bike meant he lost the lead to Hitman who took the win, crossing the line in 4:06:39. Itzahki came home in third a further 8minutes back. 
In the women's race, Israeli, Amit Moran stormed to the finish in 4:44:17, almost 30 minutes ahead of second place female.
Upon crossing the finish line, all riders were able to enjoy free pasta and beer party and witness the prize ceremony where the overall male and female riders received their trophy and all expense paid tickets to NYC for the GFNY World Championship.
Next up is the ninth annual GFNY World Championship NYC on May 19th.
About GFNY
GFNY is the global cycling marathon brand with events held in NYC, Argentina, Bali-Indonesia, Brazil, Chile, Colombia, Costa Rica, Ecuador, Italy, Jerusalem-Israel, Indonesia, Cozumel-Mexico, Monterrey-Mexico, Panama, Philippines, Portugal, República Dominicana, Santa Fe-USA and Uruguay.
Riders get to BE A PRO FOR A DAY by competing against others, themselves and the clock in a personal endurance challenge.
At all GFNY events, riders have the chance to qualify for the elite racer corral at the GFNY World Championship in NYC by placing in the top 10% (20% at regional championships) of their age group.
Campagnolo GFNY World Championship NYC
The 9th annual Campagnolo GFNY World Championship New York will be held on May 19, 2019. The race features the world's most international peloton with riders from over 90 countries. Athletes take on a challenging 100-mile route from NYC to Bear Mountain to Fort Lee to compete against each other, the clock and themselves in a personal endurance challenge.
The official GFNY website is: www.gfny.com.
GFNY World 2019/20 calendar
19 May GFNY WORLD CHAMPIONSHIP NYC
23 June GFNY SANTA FE
7 July GFNY COSTA RICA  
4 August GFNY BRASIL
8 September GFNY EUROPE CHAMPIONSHIP PORTUGAL
22 September GFNY PHILIPPINES
12 October GFNY ECUADOR
20 October GFNY PANAMA
3 November GFNY ARGENTINA
10 November GFNY COZUMEL-MEXICO 
24 November GFNY CHILE
23 February 2020 GFNY BALI
8 March 2020 GFNY MONTERREY
15 March 2020 GFNY SOUTH AMERICA CHAMPIONSHIP URUGUAY
22 March 2020 GFNY COLOMBIA
29 March 2020 GFNY ITALIA
29 March 2020 GFNY REPUBLICA DOMINICANA
24 April 2020  GFNY MIDDLE EAST – AFRICA CHAMPIONSHIP JERUSALEM
Further Material for Media Use
GFNY Jerusalem photos: here
GFNY Jerusalem video: here
GFNY World calendar graphic: here
Previous GFNY press releases: here 
GFNY photo archive (credit SPORTOGRAF): here
Media Contact
Gran Fondo New York Inc.
Emma Bishop, emma@gfny.com
Uli Fluhme, uli@gfny.com