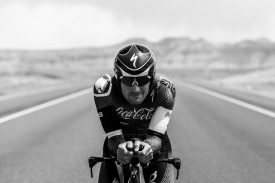 Champion Triathlete Signs Deal with High-Performance Stationary Bike Trainer Company from New Zealand.
(Boulder, CO) The world's fastest IRONMAN Tim Don is powering up his training by entering into a partnership with Revbox, the company producing the stationary bike trainer that revolutionizes the performance of elite and amateur athletes.
"Staying in prime condition for the next race means I can't afford to waste a workout, and using the Revbox makes it much easier to train smart for power and speed on the bike," says Don.
Don holds the world record for the fastest time for an IRONMAN, a triathlon comprised of a 2.4-mile swim, 112-mile bike, and a 26.2-mile run. His time of 7:40:23 at the IRONMAN South American Championship in May 2017 shattered the previous worldwide record by four minutes.
"Revbox is thrilled to partner with Tim," says Philipp Schacht, CEO of Revbox NZ. "Most of us only can dream of being as fast as Tim, so we are proud that Revbox helps all athletes – a weekend warrior, everyday commuter or an IRONMAN champion like Tim– get closer to their goals." Revbox is based in New Zealand with distribution around the world.
Revbox transforms a bike into a personalized stationary trainer by replacing the rear wheel with a lightweight, air-braked fan. With unlimited resistance and low inertia, Revbox stimulates specific muscular, aerobic and anaerobic changes to improve pedal efficiency and overall performance.
"The fan on the back wheel guarantees very smooth pedaling at all cadences. After seeing the results from my sessions spent on the Revbox, I am honored to join forces with Revbox," says Don.
Respected by pros and fans alike, Don has dominated the full spectrum of triathlon: an ITU Olympic-distance World Champion, a three-time member of Britain's Olympic triathlon team, and multiple IRONMAN 70.3 victor, including the 2016 IRONMAN 70.3 South American Champion. British Triathlon recognized Don in 2016 as its Long-Distance Athlete of the Year. He will compete at both the IRONMAN 70.3 and IRONMAN World Championships later this fall.
For more information about Revbox, visit http://www.revbox.co.nz
About Human Interest Group
Based in Boulder, Colorado, the Human Interest Group (HIG) provides marketing bandwidth, sponsor activation strategies and services, and audience-building content for companies around the world. Our trademark PROTRI division is triathlon's leading professional sports management agency. Our clients are established and entrepreneurial businesses in the triathlon, endurance sports, and the active lifestyle space. Whether needing a credible brand ambassador or wanting a fresher perspective on your business development strategy, clients value our relationships, knowledge, and credibility when it comes to building engagement within the active lifestyle communities. Got an idea? Contact us.
In addition to Don, The Human Interest Group's Professional Triathlon global roster includes five-time IRONMAN World Champion Craig "Crowie" Alexander, IRONMAN Champion Rachel Joyce, multiple XTERRA World Champion Lesley Paterson, XTERRA World Champion Mauricio Mendez, all-American IRONMAN Ben Hoffman, Canadian Power Couple Team Wurtele (Heather and Trevor), Ironman 70.3 Champ Radka Vodičková (Kahlefeldt), triathlon's Next Gen stars Sam "Appo" Appleton, and Ellie Salthouse, 70.3 Champs Lauren Barnett and Jake Montgomery, and Aussie favorite Paul "Barny" Matthews.
Visit www.professionaltriathlon.com for latest athlete bios and updated race reports.
Media Contact
The Human Interest Group
info@humaninterestgroup.org
http://professionaltriathlon.com
Twitter: @BoulderCartel
Instagram: @professionaltriathlon
Facebook: The Human Interest Group
###