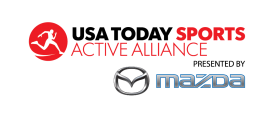 HotelPlanner.com to become the official online lodging partner of the ACTIVE ALLIANCE
USA TODAY SPORTS names HotelPlanner.com as an Official Partner of the ACTIVE ALLIANCE presented by Mazda
New York NY (January, 2017) USA TODAY SPORTS and HotelPlanner.com is pleased to announce a new partnership for the USA TODAY SPORTS ACTIVE ALLIANCE presented by Mazda – a network of the country's finest independent marathons and a property of USA TODAY SPORTS.
Through the partnership, HotelPlanner.com will become the official online lodging provider of the USA TODAY SPORTS ACTIVE ALLIANCE. HotelPlanner.com, the leading online source for group travel services, will provide hotel accommodations for marathon runners by personalizing their search according to distance, rate, star rating, brand and amenities. Through an easy-to-use hotel booking experience, the company will negotiate preferred rates with many of the area's hotels lower than any published rate in the market to provide the right hotel at the best rate for any race event.
Tim Hentschel, CEO of HotelPlanner.com, welcomes the partnership saying, "We are thrilled to partner up with USA TODAY SPORTS to provide runners with the best hotels near the race site so they can make the best choice for themselves. HotelPlanner books thousands of sports groups per year, representing 30% of our total business. We look forward to growing our partnership with USA TODAY."
"The partnership with HotelPlanner.com aligns exactly with our mission of providing great running experiences for our runners, and creating a "real-time" booking application is a natural progression towards this goal ," said Bruce Revman, Commissioner of the USA TODAY SPORTS ACTIVE ALLIANCE. "The flexibility, nimbleness and real-time room pricing and availability provided by HotelPlanner.com for each race is paramount to the runner's hotel booking experience. Our end goal is simple which is to allow any runner to easily book the room which best fits their budget and desired location."
In addition, HotelPlanner.com will be able to promote and highlight existing hotel relationships cultivated over time. The partnership and integration with HotelPlanner.com integration and partnership will go into effect in 2017.
A customized booking portal will be deployed to the exact specifications of USA TODAY SPORTS ACTIVE ALLIANCE. HotelPlanner will work directly with the area hotels to secure room blocks for the race. In addition, they will work with the Race team on any preferred or sponsor hotels. Alongside HotelPlanner, the ACTIVE ALLIANCE will be upgrading the runner experience by providing an online buying platform that allows participants to compare and book online.
About the USA TODAY Sports Active Alliance and the USA TODAY SPORTS Media Group
The USA TODAY Sports Active Alliance presented by Mazda is a robust network of the finest full and half marathons across America. For brands and marketers, the USA TODAY Sports Active Alliance is a centralized source for reaching the endurance marketplace in a meaningful capacity with significance and scale. In 2016, USA TODAY SPORTS ACTIVE ALLIANCE, added Mazda as its presenting sponsor and its official vehicle partner as well as Maui Jim, as its official eyewear partner. The USA TODAY Sports Active Alliance provides awareness, coverage and promotion at a national and local level through USA TODAY and Gannett's unique suite of assets. The USA TODAY Sports Media Group encompasses all sports initiatives across USA TODAY Sports and Gannett's more than 120 well-known local media brands. It also includes the sports photography wire service USA TODAY Sports Images; leading high school sports destination USA TODAY High School Sports; the social news hub For The Win, and the hundreds of sites within USA TODAY Sports Digital Properties such as TheBigLead.com and mixed martial arts site MMAJunkie.com, among others. USA TODAY is owned by Gannett Co., Inc. (NYSE: GCI).
About HotelPlanner
HotelPlanner.com provides group hotel booking services to 3,000 groups per day in the global group travel market. The company's group hotel booking service ensures the lowest rates by allowing customers to receive quotes online directly from hotel group sales managers. HotelPlanner allows customers to book hotels for business meetings, conferences, conventions, family reunions, weddings, extended stays, tours, military reunions, church events, and group travels. The company also provides mobile applications for booking group hotel reservations. The company owns and operates Meetings.com, a site that provides information, planning and booking services for group, meeting, and individual hotel stays for the corporate, associations and business to business enterprises. With a mission statement geared towards, "Bringing People Together," Founded in 2002, the company has offices in London, England (European Headquarters), Hong Kong (Asian Headquarters), West Palm Beach, FL (USA Headquarters), and Las Vegas, Nevada.
###
FOR MORE INFORMATION:
USA TODAY Sports ACTIVE ALLIANCE
Bruce Revman
Commissioner, USA TODAY SPORTS ACTIVE ALLIANCE 917-856-5284