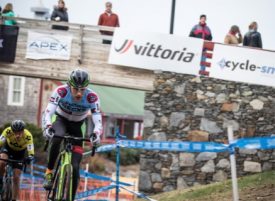 Mani and Ortenblad Control ProCX Leads
COLORADO SPRINGS, Colo. (Dec. 6, 2017) — Following a short break for the Thanksgiving holiday, events resumed on the Professional Cyclocross Calendar (ProCX) at the NBX Gran Prix of Cross in Warwick, R.I. and at Ruts N' Guts powered by the City of Broken Arrow in Oklahoma. Ruts N' Guts showcased the final Category 1 races of the season for elite ProCX athletes. The New England competitions crowned winners in the Vittoria Northeast Cyclocross Series presented by Clif Bar and Cycle-Smart.
Four-time French national cyclocross champion Caroline Mani (Van Dessel/ Atom Composites) vaulted into the overall ProCX lead for Elite Women by capturing her fourth ProCX win of the year at Ruts N' Guts on Sunday. She leaped over Sho-Air US Cup-CX champ Kaitie Keough (Racine, Wisc./Cannondale/Cyclocrossworld.com), who is 33 points behind Mani in second place. Crystal Anthony (Newbury Park, Calif./Maxxis-Shimano) secured her very first C1 title in Oklahoma on Saturday to boost her from fifth to third in the women's overall standings.
"I was disappointed (Saturday). I really wanted to take the win," said Mani, following her third-place finish in the C1 race on Saturday at Ruts N' Guts. "And (Sunday) I just really wanted it. I was smart, and felt better, more punchy. I think also I was riding the sand better than my competition, so I think that's where I got a gap. I was able to maintain and get the gap bigger. I'm happy to win my last race in the U.S. It's a good finish of the U.S. season."
Tobin Ortenblad (Santa Cruz, Calif./Santa Cruz/Donkey Label Racing) went two-for-two in the Sooner State for his eighth and ninth UCI wins of the season, and strengthened his hold of the Men's Elite ProCX leaderboard. With just a 14-point lead last week over U.S. national champion Stephen Hyde (Easthampton, Mass./Cannondale p/b Cyclocrossworld.com), the Californian now has a 140-point lead over Kerry Werner (Birdsboro, Penn./Kona Factory CX Team). Werner overtook Hyde for second place in the standings with his silver medal finish in the C1 race at Ruts N' Guts.
"It's pretty sweet," Ortenblad said about the double wins in Oklahoma. He also swept racing at the same event in 2016. "Usually if I can win the first day, I've got lots of confidence coming into the second day. The first day is usually the bigger challenge for me."
On the Elite Women's side, Emma White (Delanson, N.Y./Cannondale p/b Cyclocrossworld.com) and Ellen Noble (Kennebunkport, Maine/Aspire Racing), both racing in Europe with Keough, remained in the Top Five with solid points from earlier in the ProCX season. With big results at Ruts N'Guts, Courtenay McFadden and Sunny Gilbert moved into the Top 10 for women this week. McFadden captured two second-place finishes, giving her a 16-point edge for the eighth spot over Gilbert.
"I kind of feel like always a bridesmaid, never a bride, you know with second place for the weekend," McFadden said."Caroline was riding really strong. She was able to gain seconds every lap and gap me. I just couldn't close it down."
A large charge was made by Canadian U23 National Champion Ruby West (Cannondale p/b Cyclocrossworld.com), who took two wins over the weekend at NBX Gran Prix of Cyclocross. The teenager moved from 20th to 15th overall in the Elite Women's ProCX standings.
With solid performances along the shores of Greenwich Bay in R.I. over the weekend, Curtis White (Delanson, N.Y./Cannondale p/b Cyclocrossworld.com) and Jeremy Powers (Southampton, Mass./Aspire Racing) continued in fourth and fifth positions of the Elite Men's ProCX standings, respectively. While White grabbed two podiums in the C2 races at NBX Gran Prix of Cross, veteran Powers would add a gold medal to his six podium finishes, his first ProCX win of the season. The victory would come in a head-to-head battle with White on Saturday.
"Over the last two laps, I was able to keep the pressure on, and then in the back section in the sand, I heard Curtis just going for me just as hard as he could. And I knew if I just launched one more time that was going to be it. I did and I was able to go away with it. It was really great," said Powers, who remembered a sprint finish at the same event earlier in his career. "This is a hard course because it is a downhill sprint. I remember it well. In 2007, exactly 10 years ago, I came through the finish and I took it. It was awesome, and I knew I didn't want to come to a sprint again, because it is a hard sprint to win. I was really happy to get that and enjoy the win."
Two of the top three U23 Men's riders moved up in the Elite Men's standings with strong finishes at Ruts N' Guts over the weekend. Gage Hecht (Parker, Colo./Alpha Bicycle Company – Groove Subaru), who was third in the U23 standings, finished second and third in Oklahoma to move from 13th to 11th position overall in Elite standings. U23 champ Lance Haidet (San Luis Obispo, Calif./Donnelly Cycling) finished fourth in the C1 race in Oklahoma to move from 19th to 13th overall in the Elite standings.
Vittoria Northeast Cyclocross Series
After eight races and four signature events on the Vittoria Northeast Cyclocross Series presented by Clif Bar and Cycle-Smart, the overall leader jerseys were presented after Sunday's races in Warwick, R.I. The Elite Women's podium for the Vittoria Series would feature West on top with 215 points. Her teammate Emma White would finish in second with 190 points, and Cassie Maximenko (Watertown, Conn./Van Dessel/Atom Composite Wheels) followed in third with 185 points. In the final U23 overall Vittoria Series podium, West would be followed by Sophie Russenberger (Bend, Ore./DaHÄNGER) and White.
Curtis White had a commanding lead for the Elite Men in the Vittoria Series and would come away with 315 total points and the Elite jersey. Justin Lindine (North Ogden, Utah/Apex/NBX/Hyperthreads), finished second overall with 219 points, and Powers in third with 158 points. Lindine gained points by winning Sunday's race at NBX Gran Prix of Cross.
"It's awesome to be able to do it (win) in front of all the sponsors, and friends. The last couple of laps it was like non-stop cheering around the course. So it was pretty awesome," said the "hometown" favorite, who is from upstate New York and is supported by race sponsors NBX Bikes and Apex Technology Group of Cranston, R.I.
New Jersey's Nick Lando (Hands-On Cycling) claimed the U23 Men's jersey. Michael Owens (Richmond, Vt./Hands-On Cycling) was second and Cooper Willsey (Hinesburg, Vt./Cannondale p/b Cyclocrossworld.com) was third.
For full Vittoria Series standings for all race categories, visit crossresults.com/vittoriaNECXS.
ProCX Week 13
The 2017 ProCX season will conclude Dec. 9-10 with races in North Carolina and Texas. The Hunter Subaru North Carolina Grand Prix (NCGP) will return to Jackson Park in Hendersonville, N.C. for two days of C2 cyclocross races. Hunter Subaru NCGP is part of the North Carolina Cyclo-Cross Series, founded in 1997, that consists of 15 races across the state. OrthoCarolina is the 2017-18 series sponsor, with support from DeFeet and Carmichael Training Systems.
It will be the fourth annual Resolution Cross Cup in Garland, Texas. The two C2 races next weekend will be hosted by the Texas Cross Syndicate at Winters Park. The Resolution Cross Cup is the only UCI cyclocross race in Texas this year.
USA Cycling's ProCX features the premier cyclocross events in America and uses an overall ranking system to determine the best individual male and female 'cross racers over the course of the season. The 2017 ProCX schedule provides a total of 40 race days across 18 states and the District of Columbia. For information on the ProCX, visit www.usacycling.org/procx/. Follow Pro CX all season on Twitter – @USACProCX (#ProCX).
###
photo by Angelica Dixon