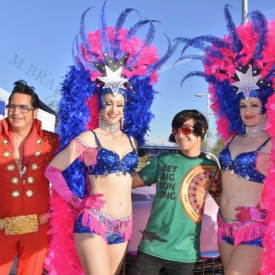 USATF 100 Mile Road National Championship Debuts in Souther Nevada
LAS VEGAS – February 16, 2018 – Beyond Limits Running will be hosting the 2018 U.S. National 100 Mile Road National Championship this Saturday, February 17 in Henderson, Nevada at the 5th Annual Jackpot Ultra Running Festival. While the featured race is the 100 Mile Road National Championship, runners will also compete in 6/12/24/48 hour races, along with a 50-mile race and a marathon.  The sold-out field of 250 runners will enjoy running around a massive bird sanctuary lake on a 2.5 mile USATF Certified loop course. All races begin at 8:00AM MST on Saturday morning, except for the 48-hour race, which begins Friday morning at 8:00AM MST.
Scheduled to compete is 2013 IAU World 24 Hour Champion, Jon Olsen (Modesto, CA).  Jon is a 3-time U.S. National 24 Hour Team member and also one of a hand-full of athletes who has been on both the U.S. National 24 Hour and 100 Kilometer Teams simultaneously. In 2013, Jon was the first North American to run 100 miles in under 12 hours when he crossed the tape in Ottawa with a time of 11:59. Expected to be fighting Jon for top honors is Mike Bialick (Minnetonka, MN) who was the 2015 USATF 100 Kilometer Champion, 2015 and 2017 Tunnel Hill 100 Mile Champion and 2016 FANS 12 Hour Champion.
In the women's competition, Traci Falbo (Jeffersonville, IN) looks to make a strong return in 2018 after her 2015 IAU World 24 Hour Championship Runner-Up finish. Traci also has an age group World Record for 48 hours and was the 2016 USATF 100 Kilometer National Champion.  Traci has also competed in four IAU 24 Hour World Championships (2012, 2013, 2015, 2017) and is also one of a hand-full of athletes to be on both U.S. National 24 Hour and 100Km Teams simultaneously.  Looking to challenge Traci will be Jackpot Ultra Running Festival veteran, Stacey Costa (Castro Valley, CA) who was 2nd in the 100 Mile race in 2016.  In 2016, Stacey was the San Francisco 1-Day Champion and in 2015, placed 2nd at Desert Solstice 24 Hour.
To create a full-blown festival environment, Dan Fester will perform lakeside both Friday and Saturday afternoons, while Elvis and the Fabulous Las Vegas Showgirls will kick-off all races. The race offers up to $10,000 in total prize money divided into National Championship awards and awards for course records.
Race Director, Ken Rubeli (Owner of "Beyond Limits Running) said, "We're beyond excited to team up with USATF to bring the 100 Mile Road National Championship to Southern Nevada.  It is our goal to offer world class competition in an extremely fun, yet competitive environment in the most famous city in the World".
About Beyond Limits Running:
Co-founded by a double organ transplant recipient 6 years ago, Beyond Limits Running was formed to help all runners, especially average runners, run way past their perceived limits.  Known for festive events, Beyond Limits Running produces the Beyond Limits Ultra race and the Jackpot Ultra Running Festival. Learn more at www.BeyondLimitsRunning.com.
Media Contact:
Ken Rubeli
Owner, Beyond Limits Running
(702) 408-5268