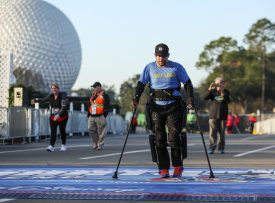 I Got Legs founder empowers other physically challenged athletes to race with him  
ORANGE COUNTY, California (April 21, 2017) – I Got Legs (http://www.igotlegs.org/), the disability rights foundation run by advocate Adam Gorlitsky, is proud to announce it has partnered with the U.S. Bank OC Marathon to add the first official I Got Legs ReEnabled Race to the event. The ReEnabled Race Course is a custom 3.1 mile route designed for individuals with physical challenges of all types to rediscover their athleticism in a safe and empowering community.
In 2006, Adam Gorlitsky was involved in a catastrophic car accident that left him paralyzed from the waist down. His doctors believed he would never walk again. In 2015, with the aid of a ReWalk motorized robotic exoskeleton, Adam Gorlitsky took his first steps in ten years.
Driven by insurmountable odds, Adam started I Got Legs, a 501(c)(3) nonprofit organization, and began using his robotic exoskeleton to walk in 5Ks, 10Ks, and a portion of half and full marathons all across the country.
Along this journey, Adam has invited individuals facing myriad physical challenges to join him. In addition to other spinal injury survivors, he has inspired athletes with permanent mobility issues, cerebral palsy, and others recovering from incapacitating injuries or illnesses to walk with him and embrace the idea that athleticism is a state of mind to be achieved despite physical limitations.
The ReEnabled Race Course will begin at mile 10 of the U.S. Bank OC Marathon's half marathon course scheduled on Sunday, May 7, and will take Adam approximately 3.5 hours to complete. Funds donated to I Got Legs will be used to advocate for health insurance coverage of robotic exoskeletons and to further establish that walking is a right not a privilege.
About the U.S. Bank OC Marathon:  
In its 13th year, the U.S. Bank OC Marathon welcomes runners from more than 20 countries and all 50 states. The course is considered one of the best destination races on the West Coast. The three-day event includes the OC Lifestyle and Fitness Expo, the Kids Run the OC, and the Wahoo's OC 5K on Saturday, May 6th at 5:00 p.m and the half and full marathons on Sunday, May 7th.
Registration is still open for the 5K, half and full distances at  www.ocmarathon.com  For more information on the I Got Legs ReEnabled Race, please contact the OC Marathon at 949-222-0456 x2 or email at info@ocmarathon.com.