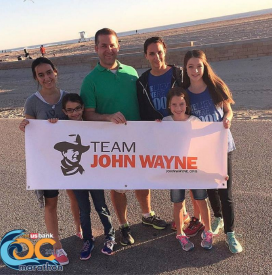 First-Year Program Has Doubled Money Raised, Number of Donations and Charity Participants
[Orange County, CA.] – The U.S. Bank OC Marathon is pleased to announce that the 2016 Official Charity Program has already doubled this year's funds raised, the number of donations, and number of participating fundraisers with still one month left until race day. Organizers attribute the fundraising growth to the marathon's new "Run for Free" charity program that launched this year.
The U.S. Bank OC Marathon's 2016 Official Charity Program offers the opportunity to run the race for a cause. Participants can register to "Run for Free" with one of the enrolled charity partners and make a commitment to a fundraising goal. If the runner raises the minimum amount for one of the participating charities, the marathon registration fees are covered by that charity.
In April of 2015, the U.S. Bank OC Marathon Charity Partner Program had raised just over $90,000 with 863 donations and 221 fundraisers participating. In April of 2016 the numbers have more than doubled and the Charity Partner Program has risen just over $180,000 with 1100 donations and 467 participating fundraisers. With a goal of $500,000 this year, race organizers anticipate that these figures will continue to grow at an increased rate up until race day on May 1.
"We are very excited to see that the Run for Free program is driving an increase in money raised for our great charity partners," commented U.S. Bank OC Marathon Charity Program Director, Kelsey Beall. "The program is really a win for all. More runners get to participate in the race while giving back to a valuable cause. People are truly making their miles matter," Beall added.
Some of the 2016 participating charity organizations are well on their way to meet fundraising goals.  Team John Wayne, benefitting the John Wayne Cancer Foundation, has raised over $26,000, Project Purple OC Marathon Team, building awareness for pancreatic cancer, has raised over $33,000 and the Orange County Bar Foundation has raised over $35,000 so far.
The U.S. Bank OC Marathon is a conduit between charitable organizations and runners.  Annually the goal of the Charity Partner Program is to strengthen ties between the running community and charities by providing a platform to bring the two together.
There is still time to register to run and make your miles matter. For more information and to get involved visit www.ocmarathon.com.