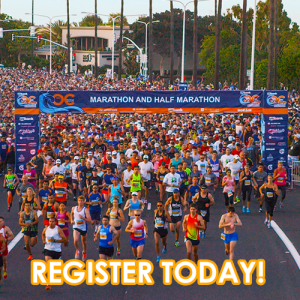 World-famous German wheat beer brewer brings its Non-Alcoholic recovery drink to the Marathon, Half Marathon and Wahoo's 5k, refreshing athletes at the finish line
[Orange County, CA.] – The U.S. Bank OC Marathon is pleased to welcome ERDINGER Non-Alcoholic as the exclusive beer sponsor of the 2015 U.S. Bank OC Marathon, half marathon and Wahoo's OC 5k taking place May 1-3.
The Bavaria-based brewer with a global distribution to more than 90 countries will offer complimentary full-sized samples of ERDINGER Non-Alcoholic, a refreshing isotonic recovery drink to quench the thirst of all participants at the finish line. ERDINGER will also be at the Allergan OC Health and Fitness Expo handing out samples.
Brewed under the strict Bavarian Purity Law of 1516, which requires high-quality, only natural ingredients, ERDINGER Non-Alcoholic replenishes the body with essential vitamins including B9 and B12, which help reduce fatigue, promote energy-yielding metabolism and support the immune system. The brew contains less than 0.5% of alcohol by volume and is low in calories with just 125 per serving.
"The private brewery ERDINGER Weissbrau is proud to expand its involvement in endurance sports to the U.S. market," said Waltraud Kaiser, export director for the brand. "For years now athletes in Europe have been enjoying a cold ERDINGER Non-Alcoholic beer as afull-bodied refreshment after training and competitions. As a new partner of The U.S. Bank OC Marathon, we are looking forward to offering our ERDINGER Non-Alcoholic to all participants after they cross the finish line."
Winners in the marathon and half marathon will be presented with a three-liter glass of ERDINGER Non-Alcoholic beer on-stage at the awards ceremony at the finish line.
ERDINGER Weissbrau will also host the ERDINGER Beer Garden and will be the exclusive beer in the VIP event areas.
"ERDINGER Weissbrau is an ideal partner for our event," said Gary Kutscher, The U.S. Bank OC Marathon event director. "The brand has a great reputation globally and with the Non-Alcoholic, we are thrilled to offer it to all race participants and support ERDINGER Non Alcoholic by entering the sports drink market in the U.S."
The OC Marathon event weekend will be held from Friday, May 1st through Sunday, May 3, 2015. More than 23,000 runners will participate in the marathon, half marathon, 5K and Kids Run the OC. Additionally, thousands of spectators line the course and the start line in front of the Newport Beach Marriott and finish line at OC Fair and Event Center, while an additional 25,000 attend the two-day Allergan Health & Fitness Expo which showcases national brands and state of the art footwear and training technology.
For more information regarding the U.S. Bank OC Marathon please visit www.ocmarathon.com.