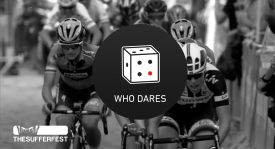 'Who Dares' Features Exclusive Footage from UCI Women's World Tour
November 13, 2017 – The Sufferfest, a comprehensive training app for cyclists and triathletes, today announced the release of its latest workout, Who Dares. Adding to their extensive library of 43 structured cycling workouts across nine categories, the new session features exclusive footage from the Union Cycliste International (UCI) Women's World Tour.
Echoing the rise in popularity of women's professional cycling, Who Dares features exclusively-licensed footage from some of the biggest races in UCI Women's World Tour calendar, including Ghent – Wevelgem, Amstel Gold Race, and Strade Bianche – Eroica Pro. As with all workouts from The Sufferfest, Who Dares promises to keep athletes engaged with a compelling storyline and driving soundtrack designed to perfectly complement the pace changes.
Who Dares is a 54-minute base workout with three nine-and-a-half minute, sub-threshold intervals punctuated by three sprints: one at the beginning of the interval, one in the middle, and one at the end. The workout was created by Mac Cassin, Coach at APEX Coaching in Boulder, Colorado and one of the architects of The Sufferfest's newly-released Four-Dimensional Power™ (4DP) training personalisation platform.
"Across the 4DP metrics, Who Dares focuses on developing an athlete's Anaerobic Capacity, Neuromuscular Power and Functional Threshold Power," said Cassin. "Incorporating three sprint efforts into each sub-threshold interval floods your system with metabolites like lactate, which your body is then forced to clear while still working at a relatively high intensity. This helps improve your ability to actively recover, which is ideal for situations like races where you need to be able to follow repeated surges and attacks. Multiple cadence changes throughout the workout also serve to stimulate the nervous system, which is critical for improving form and efficiency."
"The addition of Who Dares to our massive library of cycling, yoga and mental toughness sessions provides athletes with yet another invaluable tool to build speed and power," said David McQuillen, CEO of The Sufferfest. "When done in the context of our new Four-Dimensional Power platform, the intensity of each interval is further optimised to match an athlete's unique power profile, resulting in one of the most effective base workouts available."
To experience Who Dares and the rest of The Sufferfest's catalogue of structured workouts, download The Sufferfest Training System for iOS, Mac OS, and Windows or visit one of the 162 Licensed Sufferlandrian Embassies worldwide. For more information on The Sufferfest, please visit www.thesufferfest.com.
###
About The Sufferfest
The Sufferfest creates the world's most comprehensive training platform for endurance athletes and fitness enthusiasts, whether at home or in one of the 150 licensed Sufferlandrian Embassies located worldwide. The Sufferfest Complete Training System gives users unlimited streaming or offline access to a massive library of structured cycling, running, and triathlon workouts, as well as 20 Yoga for Cyclists videos and a 10-week Mental Training Programme. Every workout is designed by elite coaches and sports scientists to provide maximum benefit with minimum time, combining killer soundtracks, engaging storylines, and exclusive footage of the world's biggest professional races. The Sufferfest offers groundbreaking, individually-optimised workouts through its exclusive Four-Dimensional Power (4DP™) platform, which measures how an athlete produces power across a range of efforts to personalise power targets. The app also includes a full suite of structured training plans for road, mountain, triathlon, and cyclocross, developed in partnership with APEX Coaching. Connection to smart trainers and other fitness devices allows athletes to train to specific targets, analyze performance data, and share with platforms like Strava, Training Peaks, and Garmin Connect. Available for iOS, macOS and Windows. For further information please visit http://www.thesufferfest.com 
About APEX Coaching and Consulting
APEX Coaching has been helping athletes Achieve Peak Endurance eXperiences since 1999. From our humble beginnings to where we are today, we call Boulder, Colorado home. After finishing his Masters degree at Colorado University – Boulder, Neal Henderson founded APEX Coaching & Consulting. During his time as the Director of the Sports Science Department at the Boulder Center for Sports Medicine (BCSM), Neal continued to refine APEX and the direction for the company for the future. Eventually, Neal took APEX Coaching on full time and brought on new coaches, partnerships, and athletes. In 2017, in addition to its partnership with RallySport Health and Fitness, APEX Coaching has grown to acquire it's own facility to help provide the latest in sports science to its athletes. With the addition of this new facility, APEX Coaching has also added new services available to the public such as 3D Bike Fitting, Metabolic Testing, Supplemental O2 training, and much more. APEX continues to help athletes of all levels Achieve Peak Endurance eXperiences of their own throughout their life. For more information visit www.apexcoachingco.com.