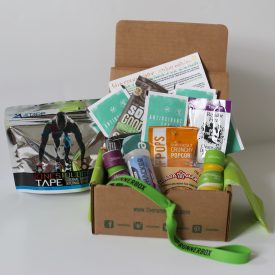 The RunnerBox released its newest subscription box this month featuring products handpicked to help athletes make their spring training and racing as successful as possible.
"Spring is a wonderful season for endurance sports full of beautiful weather and amazing events," said The RunnerBox CEO Laura Jorgensen. "We see several athletes come into a full spring season off a long winter break low on the supplies needed for effective training. Our objective was to restock their cabinets with great products that will kickstart their training and help them achieve their Spring goals. "
The new release will ship out to current subscribers as well as anyone who signs up before the May 30th deadline. Boxes start at $20 and feature the following partners:
AI Tape was created to reduce muscle fatigue, increase athletic performance, and decrease injury rates.  It provides all the stretch, support, and benefits of traditional kinesiology tape with added pain relieving Active Ingredients. The active ingredients will provide subscribes with heating and cooling sensations which are increased by physical activity and continue long afterwards during the recovery phase of the body.
Clara Cookies are packed with protein making them a great alternative for breakfast or a pre-workout snack. Subscribers will love the delicious taste and health benefits, but what makes these cookies stand out most is that they are a completely volunteer run company with 100% of the profits donated to adoption grants for children with special needs.
ELoad was developed for endurance athletes by marathon runner, Dr. Douglas W. Stoddard. Eload offers a gel with electrolytes in their correct biological ratios and just enough carbohydrates to optimize absorption and reduce stomach distress. Subscribers will receive the Apple flavor.
Sun Warrior uses healthy, organic, plant-based ingredients to deliver a bar filled with 17-19 grams of protein per bar. With four delicious flavors, it was tough to choose, but subscribers will get to enjoy the delicious Cinnamon Roll bar in their boxes.
2Toms StinkFree Detergent is formulated to give a deeper clean of technical material found in running clothes and active wear. Technical fabrics need a technical detergent to remove the funk and 2Toms will be keeping RunnerBox athletes' clothes fresh and clean.
Half Pops is a halfway-popped popcorn snack that will leave subscribers with the big crunch of a salted snack and all the health attributes of popcorn.  Using only Non-GMO popcorn these crunchy morsels are gluten free, kosher and never fried.
Bodyhacker pre-workout v2.0 is engineered to provide nutritional support to the three systems vital to endurance sports: respiratory, cardiovascular and muscular. It is designed to be taken pre-exercise and will give subscribers the energy needed to complete more work during training sessions.
Hawaiian Ola shots are a blend of Hawaii's superfruit, Noni and other tropical fruits. Noni is a natural anti-inflammatory, and is filled with vitamin C, vitamin B3, B6, B9 and B12. Subscribers will be introduced to both the Energy and Immunity shots to keep them on top of their game and healthy.
Your Tea has been brewing Traditional Chinese Medicine (TCM) blends since 2013. We all need more balance these days and Your Tea makes it as simple as a cup of tea. Subscribers will receive a week supply of antioxidant tea with ingredients to increase immunity, assist sleep and strength the overall system.
Epic Wipes are towel-sized and biodegradable, yet they will fit easily into subscriber's pockets or backpacks. You read that correctly: towel sized. Meaning they can match up to the dirt or stink of even the toughest workout. Better yet, they are made with natural ingredients so are safe for subscribers and the Earth.
To sign up to receive this box or learn more about The RunnerBox vist www.therunnerbox.com or follow The RunnerBox on Instagram, Twitter or Facebook.
About The RunnerBox
Offering boxes for runners, cyclists and triathletes, The RunnerBox is a fun and easy way for any athletes to receive a regular supply of products to enhance their active lifestyles. Each box is filled with hand-picked products tested and approved by a team of professional athletes and nutrition experts. The RunnerBox offers subscriptions which are shipped every second month in addition to limited edition boxes and one time gift boxes. To learn more about The RunnerBox visit www.therunnerbox.com