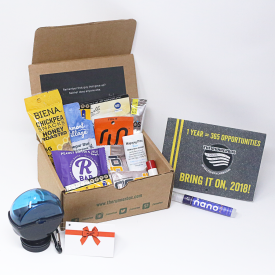 Following in the footsteps of a sell-out Fall Edition, The RunnerBox has debuted its latest release – its Winter Edition. The Winter Edition will be available during the months of December and January and will be loaded with a mix of items to keep athletes fueled, healthy and motivated during a time of year when it's easy for workouts and self-control to take a backseat.
As well as winter themed items, this particular box has a focus on simplicity. "We are seeing the sports nutrition pendulum swing back towards real food ingredients," said The RunnerBox co-owner Laura Jorgensen. "Several products saw a rise in artificial additives to boost energy and endurance a few years ago, but so many great companies are going back to the natural route that is better for the body long term. The hardest part is finding natural products that actually work, but we think we've found the best in the business who have done their research and brought amazing products to the market that provide athletes everything they need in a minimally processed way."
All current subscribers will receive the latest release, with a limited number available for new subscribers.
The RunnerBox Winter Edition Line Up:
Endurance Tap is providing subscribers their Salted Maple Energy Gel – an easy to digest, super tasty, high-performance energy gel made with a few simple natural ingredients: Maple syrup, sea salt, and ginger.
Happy Pits natural deodorant will keep subscribers dry and fresh during stressful holiday moments or the most strenuous of New Year resolution workouts.  Happy Pits is chemical free, aluminum free, toxin free, gluten free, cruelty free, and best of all – really works!
R Bar is bringing subscribers back to their childhood with their 3 ingredient PB&J energy bar. It's great pre-workout fuel without any unneeded ingredients.
MyMix2Go is providing subscribers with an innovative protein transfer solution that doubles as a storage container. Bringing protein on the go and actually getting it into your water bottle without the mess has never been easier.
Bipro is providing subscribers clean protein without artificial ingredients, sugars or unnecessary fillers. This NSF certified protein is the perfect complement to the sleek MyMix2Go transfer container.
Vermont Village will be helping subscribers regulate blood sugar, boost digestion and lower blood pressure with their new on-the-go vinegar shots. Unlike raw apple cider vinegar, these healthy single serve shots have delightful hints of ingredients such as honey so they go down easy.
SOS Hydration is here to save subscribers from dehydration, whether it be from a long sweat session or a holiday hangover. Made by 2 ex-pro athletes, this functional beverage is as effective as an IV drip.
Thayer's peppermint lip balm will provide subscribers with the wonder of the natural moisturizing power of its main ingredient, slippery elm. No dry lips for subscribers this winter!
Biena has our subscribers' snack cravings covered with this plant based, high fiber, protein packed snack. It's crunchy and delicious, making it the perfect alternative to chips.
NoGii's bite sized bursts of protein will help satisfy winter cravings without any of the guilt.  At 110 calories, they are perfect pre-or post-workout when you need something, but don't want an entire bar.
Nano is here to make sure subscribers protect themselves from bugs which seem to overtake immune systems every winter. Nano Pure™ sprays on to form a microscopic barrier that is deadly to 99.99% of illness- and disease-causing germs.
Run Gum is here to give subscribers the caffeine boost they need in the form of a delicious gum. This performance enhancing gum is back and better than ever with a brand-new formula.
The Runnerbox "Bring it on, 2018!" calendar will be keeping subscribers on top of their game and focused on their goals with monthly motivation, humor and race schedules.
Tiger Balm is making sure that subscribers muscles stay warm even when temperatures drop with their Double Ultra ointment.
To learn more about The RunnerBox vist www.therunnerbox.com or follow The RunnerBox on Instagram, Twitter or Facebook.
About The RunnerBox
Offering boxes for runners, cyclists and triathletes, The RunnerBox is a fun and easy way for any athletes to receive a regular supply of products to enhance their active lifestyles. Each box is filled with hand-picked products tested and approved by a team of professional athletes and nutrition experts. The RunnerBox offers subscriptions which are shipped every second month in addition to limited edition boxes and one time gift boxes. To learn more about The RunnerBox visit www.therunnerbox.com