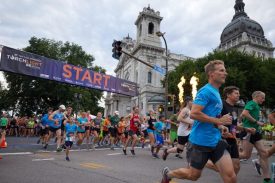 Runner nominations, running industry surveys and runner voting determined the elite group of Best Races in America; 2018 Registration now open
MINNEAPOLIS, Minn., Dec. 1, 2017 — BibRave, the community that connects runners with the best races throughout the country, has listed the Torchlight 5K presented by Life Time® among the top 15 5K races in the country. This honor is part of The BibRave 100, a list that acknowledges the most exceptional races throughout the U.S.
"All of the races listed on The BibRave 100 are shining examples of how to put on a great event, and we couldn't be more pleased with the list," said Tim Murphy, Co-Founder of BibRave. "Runners put a lot of time and research into planning their race calendars, and we hope The BibRave 100 is a helpful tool highlighting some truly wonderful races."
The Torchlight 5K, held annually in July as part of Minneapolis' Aquatennial celebration, is a summertime night run through downtown Minneapolis and across the scenic Stone Arch Bridge. The race literally starts with a bang, exploding torches and all, and finishes with a night party like none other in Minneapolis as runners are welcomed at the finish line with cool refreshments and hot entertainment.
"We want to thank the runners who come out each year to run with fire and we look forward to welcoming back the USATF Minnesota 5K championships on July  18, 2018, said Dan Lakin, Brand Manager for Life Time. "Receiving this honor is the result of numerous hours and dedication our staff and volunteers put into providing a great experience for all runners of every level.
Registration for the 2018 Torchlight 5K opens at noon CST today, Dec. 1, with a special registration blitz: The first 100 registrants will receive $25 entry, in addition to the custom glow-in-the-dark T-shirt and access to the epic Torchlight 5K Finish Festival.
About Life Time®—Healthy Way of Life
Life Time champions a healthy and happy life for its members across 129 destinations in 37 major markets in the U.S. and Canada. As the nation's only Healthy Way of Life brand, Life Time delivers an unmatched athletic resort experience and provides a comprehensive healthy living, healthy aging and healthy entertainment experience that goes well beyond fitness to encompasses the entire spectrum of daily life for individuals, couples and families of all ages.
# # #