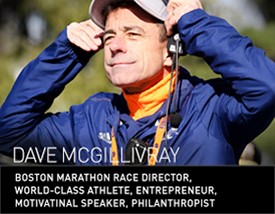 December 12th, 2014 – The Louisiana Marathon announces Dave McGillivray, Boston Marathon Race Director, Motivational Speaker, World-Class Athlete and Accomplished Entrepreneur as the keynote speaker of the popular Pastalaya Dinner on Saturday, January 17, 2015. Also in attendance and opening the presentation for Mr. McGillivray will be Major Kim "Rooster" Rossiter, USMC and founder of Ainsley's Angel's of America.
The Louisiana Marathon's annual Pastalaya Dinner promises to inspire and motivate thanks to these two runners whose work has changed the lives of athletes all over the world.
Dave McGillivray is perhaps best known for his famous run across the US in 1978 for the Jimmy Fund of Boston, when he ran a total of 3,452 miles in 80 days. He is a member of the Running USA Hall of Champions, the USA Triathlon Hall of Fame and was given the 2007 Runner's World Heroes of Running Award. He is also the founder of his own children's fitness foundation.
Marine Rooster Rossiter is the Founder and President of Ainsley's Angels of America which provides ride-alongs for disabled children and adults in athletic events. Rooster started Ainsely's Angels in 2007 when his daughter, Ainsley, was diagnosed with a rare, terminal, genetic disorder. Since then, Ainsley's Angels has expanded to eight chapters in seven states, including Louisiana.
The annual sold out Pastalaya Dinner will begin at 5:00 p.m. in the ballroom of the Hilton Baton Rouge Capitol. The dinner is Cajun-crazy, and the menu includes many carb-loading servings and healthy options, including two yummy soups (Sweet Potato and Vegetable,) Green Salad, Veggie Pasta and Chicken and Sausage Jambalaya.  Baked cookies, Blonde brownies and a cash bar round it out. $22.50 in advance for adults, $8.00 for kids