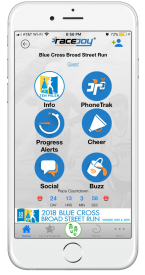 Broad Street Run Delivers on Race Day Experience
May 2, 2018 – Moorestown, NJ – RunSignUp's product, RaceJoy, the leading race day tracking mobile application, is being offered for participants and spectators of the 39th annual Blue Cross Broad Street Run. On May 6, 2018 in Philadelphia, participants of the largest ten-mile road race will use RaceJoy for live tracking of their actual position, continual progress updates and receive supportive and entertaining cheers from family and friends. Race organizers are offering RaceJoy to embrace the thousands of spectators that will flood the streets of Philadelphia and those that are not able to make it to the race grounds.
This historic, ten-mile trek down Philadelphia's Broad Street draws seasoned runners and first-timers alike. The course travels through local neighborhoods and city landmarks toward the finish line at the Navy Yard. The ten-mile point-to-point course was named one of the fastest in the country by Runner's World and draws runners from all over the country.
"Our goal is to provide a fun experience that encourages fitness and RaceJoy helps us deliver a race day experience that is uniquely engaging. We see RaceJoy as an opportunity to address the needs of both our participants and spectators while bringing them together to share in the Broad Street experience," said Leo Dignam, Broad Street Run race director.
Those that choose to carry their phone and use RaceJoy will receive audio performance updates on every mile on the course and will have the motivational lift knowing family and friends are tracking their progress. Participants will also receive surprise sound clips race organizers have scheduled along the course. Spectators have the ability to provide the all-important support at the race site or remotely by tracking the live location of the actual position of the runner they are tracking. Those on site can better manage where to see their participants along the course. Spectators will also use RaceJoy's popular Send-a-Cheer feature by sending participants pre-recorded audio clips or text-to-speech cheer messages.
With 42,000 participants and at least 60,000 supporting spectators, RaceJoy offers crowd assistance features to help family and friends locate one another on race day. RaceJoy's NearMe alerts let spectators know when a tracked runner is drawing near. The MeetUp feature allows supporting family and friends to find participants in a sea of people by seeing where they are in relation to their tracked runner on an interactive course map.
"We are thrilled to have RaceJoy as part of the Blue Cross Broad Street Run. This is the largest event to offer RaceJoy and it's a great opportunity to show all that it is capable of. It's great to see that iconic events like this dedicated to providing a first class experience, not just for the runners, but for the spectators who make up a large part of the race experience," said Bob Bickel, founder of RunSignUp.
About RunSignUp's RaceJoy
RaceJoy, a RunSignUp product, is changing the race experience through advanced mobile technologies specifically for running, cycling and triathlon race events. Exclusively designed around the race day experience, RaceJoy provides real-time, interactive information and connection for participants, spectators and race organizers on race day. RaceJoy offers innovative features such as live phone tracking, GPS-based progress alerts, Send-a-Cheer, and Race Day Monitoring. With an emphasis on quality, RaceJoy was built upon native mobile technology for an authentic, interactive mobile experience. For more information about RaceJoy, visit www.racejoy.com and the company behind the app at www.runsignup.com.
###