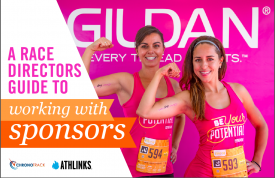 Louisville, CO – July 7, 2016 – ChronoTrack, the industry leader and only provider of complete race solutions for endurance sports, has released a free guide on working with sponsors, now available for download: http://bit.ly/298jzmU. The 25-page guide helps readers with all aspects of race sponsorship from attracting sponsors to keeping their loyalty, all without it overtaking their race planning to dos.
"We hear time and again that race organizers are looking for more information on sponsorships," said Laurie Pani, Director of Marketing, ChronoTrack. "There's a lot out there to sift through. This guide brings it all together in one place without overwhelming the reader. Plus, we've got a few chapters written from the sponsor point of view to really help readers get into the minds of their target audience."
In the guide, Race Directors will learn:
The "what", "why & "who" of race sponsorship
How to use data in sponsor relations
How to attract sponsors
How to keep your sponsors' loyalty
Top 10 sponsor pet peeves
How to write a kick-ass race report
How to make media sponsorship work
To download the free guide, visit: http://bit.ly/298jzmU.
About ChronoTrack
ChronoTrack is a trusted provider of race solutions for timing partners and race organizers. ChronoTrack supports 25 of the 30 largest races in the U.S.  Its comprehensive solution offers events a modular approach to accessing registration, on-site registration, race check in, scoring, live results, mobile results, athlete updates, on-site results, athlete photography and video finishes.  This, coupled with its timing equipment and services from ChronoTrack's network of certified timing partners provides the most complete race management solution for races in the market.