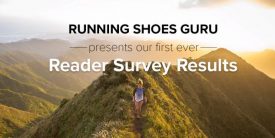 Results of the 2017 Runners Survey Highlights Why People Run, What They Run In, And How Much They Spend
At the end of 2017 Running Shoes Guru put together their first annual reader survey which was completed by 2,574 runners. It highlighted the things that runners hate most, and the differences between male and female runners.
The survey findings have been compiled into a report to share the insights into the world of runners, highlighting things like why 60% of runners spent more than $100 on their last pair of running shoes.
The results show us that the biggest pet hate of runners is… Pets. Or more specifically, dogs that aren't kept on a leash.
Running Shoes Guru also established that Asics were the most popular choice of running shoes in 2017, followed by Brooks and then Nike.
One statistic that really stands out when it comes to running tech, is that women are twice as likely to run with headphones than men.
The respondents to the runners' survey also showed that the Half Marathon is by far the most popular race distance of 2017 with 36% of the votes.
One fascinating statistic Running Shoes Guru found is that daytime runners were significantly friendlier than their nigh time counterparts. With over 63% of runner always acknowledging other runners in the daytime, but only 35% of runners at night noted the same.
The friendliest age category of all was the 11-25 year olds.
You can see the full report and results at https://www.runningshoesguru.com/content/rsg-survey-results/
Ends
For further information please contact Alan Paul
alan@runningshoesguru.com
+447725487150