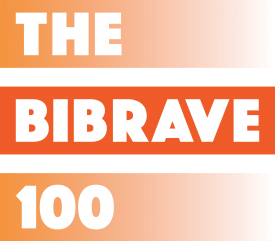 Voting to decide the top five Marathons & Half Marathons and top three 10Ks & 5Ks is open until September 25, 2017
Portland, OR – BibRave, the new marketing solution for races and endurance brands, recently launched The BibRave 100: a Definitive List of the Best Races in America. After the nomination period that saw thousands of submissions, a runner vote – coupled with the results from a Running Industry Survey – will decide the top races in each distance (Marathon, Half-Marathon, 10K, and 5K).
Voting is open to the public between now and September 25, 2017 at www.thebibrave100.com, where anyone can vote (once per distance category) from among the nominated finalists.
BibRave has also partnered with The Running Event, North America's largest specialty running conference and trade show, inviting all races who make The BibRave 100 to attend the conference and be recognized at an awards luncheon on Wednesday, November 29, 2017.
Just as TRE will bring together all facets of the running business (retailers, brands, manufacturers, sponsors, and races), BibRave is incorporating relationships from across the running world – from races and running brands to race vendors and a robust online community of social runners – to create The BibRave 100.
"Coordinating and assembling The BibRave 100 has been an illuminating experience already," said Tim Murphy, Co-Founder of BibRave. "We love hearing what matters most to runners and what races THEY think are really nailing it. So, we're excited to be able to shine a light on races who excel in areas that runners value most."
In addition to featuring the Marathon, Half Marathon, 10K and 5K standouts, The BibRave 100 will include three non-ranked top-10 lists in categories most-cited during the nomination process (i.e. "Awesome Medals & Bling, Fun Post-Race Party/Atmosphere, Great Monetary Value, Killer Shirt, etc). For more information on dates and how the list will be created, see our FAQ section for more details.
About BibRave
BibRave works with races and brands to drive runner engagement and, ultimately, generate more sales and registrations. Through their large and highly-vetted network of running bloggers (BibRave Pros), their popular Twitter event (#BibChat), and their new Podcast (The BibRave Podcast) BibRave helps endurance brands and races go beyond simple advertising and truly connect with more runners.
The company's consumer-facing product is a race review site where runners can learn about a race before signing up, and leave feedback after the event. The company launched in late 2013 in the Midwest and is now based in Portland, Oregon.
About The Running Event
The Running Event is a conference and retail trade show for running specialty retailers, hosting over 2,500 attendees and about 300 exhibitors at their annual conference. Formula4 Media, based in Great Neck, N.Y., established in 2005, also produces nine publications: Running Insight, Footwear Insight, Sports Insight, Outdoor Insight, Team Insight, Textile Insight, Trend Insight, Inside Insight, and Sportstyle.