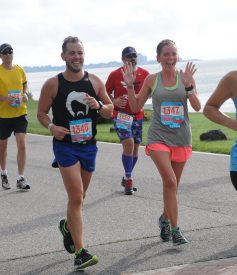 J&A Racing, a world-class race management company based in Virginia Beach is pleased to announce that the Crawlin' Crab Half Marathon, 5K and Kids Kilometer presented by Bon Secours In Motion has been recognized as a Sports Event to Watch in 2017 by SportsEvents Magazine.  This exciting event features flat, fast courses, which take runners through historic downtown Hampton, into beautiful old neighborhoods, and along the majestic Chesapeake Bay and Hampton Roads Harbor.  To add to the excitement, DJs and radio stations provide entertainment along the courses, escorting participants to an energetic finish, with a Craft Brew Fest waiting for them as they cross the finish line.  All race participants receive commemorative swag, including a unique finisher's medal, a commemorative shirt and an awesome finisher item.
The Outdoor Craft Brew Fest features live music, craft brews and Kickin' Corn & Crab Chowder provided by Baker's Crust. The weekend also features a two-day Sports & Fitness Expo at the Hampton Roads Convention Center, which includes sports retailers, sports performance services, and other exciting vendors.
Sports event professionals were asked to nominate sports events that they believe made a memorable impression and earned the right to be a Sports Event to Watch in 2017. Nominations were received from readers throughout the year, and the top picks were selected based on results from an online voting system.
"With thousands of sporting events across the nation each year, it takes something special to stand out," said John Rezell, SportsEvents executive editors. "These events have shown they deserve to be honored for setting a high standard."
"The City of Hampton is extremely excited to welcome the return of the Crawlin' Crab Half Marathon, 5K, Kids Kilometer & Shell Yeah Challenge, October 6-8, 2017," said Hampton City Mayor Donnie Tuck. "We deeply value our partnership with J&A Racing, one of the top race management companies in the country, and are looking forward to hosting the Crawlin' Crab for many years to come."
"We are thrilled to have Crawlin' Crab selected as a Sports Event to Watch in 2017," said J&A Racing co-owner, Amy Frostick. "We have enjoyed working with the city of Hampton to help showcase their beautiful city, and we are excited to see this young race already gain national recognition.  We look forward to seeing Crawlin' Crab continue to grow!"
###
About J&A Racing
J&A Racing is a nationally recognized race management company based in Virginia Beach, Virginia with a mission to promote and support healthy lifestyles and the sport of running through the development and growth of their running events throughout Hampton Roads. Since 2003 when J&A Racing owners Amy and Jerry Frostick first took over the Shamrock Sportsfest, the Yuengling Shamrock Marathon Weekend has become one of the most popular events in the country, growing from 3,000 participants to a record 30,000 in 2015. J&A Racing's portfolio of fun, festive and family oriented events for runners at all stages in life has expanded to include the Halloween themed Anthem Wicked 10K and Old Point National Bank Monster Mile, the Big Blue 5K presented Bon Secours In Motion, the Christmas themed Great Outdoor Provision Co. Surf-n-Santa 5 miler, the Crawlin' Crab Half Marathon & 5K, the Chartway Norfolk Harbor Half Marathon and We Promise Foundation 5K and the Corporate 5K. For information on all of the J&A Racing events, please visit http://www.jandaracing.com/.