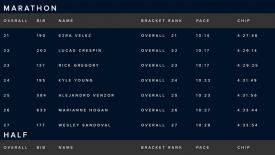 The feature allows timers to offer real-time experiences to participants on race day.
Louisville, Colo., July 20 – ChronoTrack, the industry-leading provider of complete race solutions for endurance sports, has added the ability to create customized scrolling results to their comprehensive race management platform ChronoTrack Live. The scrolling results join a number of other features that allow timers to offer real-time experiences to participants on race day.
Prior to ChronoTrack Live's scrolling results feature, athletes and spectators didn't have a great way to consume continually updated results in large social groups. Explained Product Manager Nick Wiegand, "We're now able to bring scrolling real-time results to the masses in one easy-to-use platform."
Timers are able to filter the results displayed by race, category, finisher limit, and more. It also allows the event and/or sponsors to add custom logos and messaging to the board. "We're always looking for more ways to help our timers build revenue and provide a great experience for their participants," continued Wiegand, "By allowing timers to mix and match what they want to display, we're able to do just that."
Scrolling results is available now and adds to the existing ChronoTrack Live features such as athlete updates, mobile results, athlete photography and video finishes. To learn more about scrolling results and ChronoTrack Live, visit bit.ly/2a5BtXw or contact your personal ChronoTrack sales representative.
###
About ChronoTrack:
ChronoTrack is a trusted provider of race solutions for timing partners and race organizers. ChronoTrack supports 25 of the 30 largest races in the U.S. Its comprehensive solution offers events a modular approach to accessing registration, on-site registration, race check in, scoring, live results, mobile results, athlete updates, on-site results, athlete photography and video finishes. This, coupled with its timing equipment and services from ChronoTrack's network of certified timing partners provides the most complete race management solution for races in the market. To learn more, visit www.ChronoTrack.com.