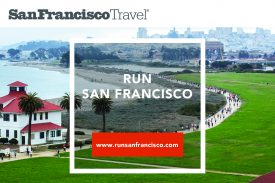 (San Francisco, Calif.) – Run San Francisco is a new initiative promoted by San Francisco Travel, the city's official destination marketing organization, and Giants Enterprises, the entrepreneurial arm of the San Francisco Giants.
Run San Francisco is the first of its kind program bringing together local endurance event producers and one the most globally recognized and loved destinations in the world," said Stephen Revetria, senior vice president of Giants Enterprises. "We are thrilled that San Francisco is currently ranked number one on 'Runners World's' list of "America's 10 Best Running Cities," and feel that now is the perfect time to promote our city across the nation as a leader in health, fitness and wellness. Run San Francisco creates a synergy between local race organizers and allows for the promotion of their world-class events while providing a platform for the destination as a whole to reach the passionate running audience."
"We know that dedicated runners travel great distances to participate in events every year.  We want to encourage them to participate in our local events and spend extra time enjoying the best destination in the world before and after the races," said Joe D'Alessandro, president and CEO of San Francisco Travel. "We know San Francisco is one the best places in the world for running, but this program gives us a fantastic opportunity to attract a huge audience to experience running in SF and so much more – our top-rated culinary scene, iconic landmarks, diverse nightlife and much more."
According to IBISWorld, the road racing industry is valued at $1.4 billion.  Among active runners, 74 percent hope to travel overnight for endurance event participation in the next 12 months.  Not taking into account race registration and race-related fees, the average runner spends $587 on travel and lodging related to their specific race participation.
Current partners in the initiative include the Alaska Airlines Bay to Breakers (May 21, 2017), an iconic San Francisco experience since 1912, Across the Bay (July 9, 2017), a decades-old event with a 12k course that crosses the Golden Gate Bridge, and the San Francisco Giant Race (August 27, 2017), an event produced by the San Francisco Giants, featuring the flattest and fastest half marathon in San Francisco as well as a finish line on the field at AT&T Park, "baseball's perfect address."
San Francisco has become a sports destination on the global stage, hosting professional events such as the upcoming Rugby World Cup Sevens on July 20-22, 2018 as well as Super Bowl 50 in 2016, the America's Cup in 2013 and the World Series in 2010, 2012 and 2014.  Major golf tournaments coming to San Francisco include the 2020 PGA Championship and the 2025 Presidents Cup.  The U.S. Open has been held in San Francisco five times, most recently in 2012.
"We're excited to share San Francisco with the world," said Chris Holmes, general manager of Alaska Airlines Bay to Breakers.  "Locals already know how great it is to participate in running and endurance activities in San Francisco. By attending the largest race events in the country, we're able to share that message with the world and really encourage runners to make their next race travel experience to San Francisco. As a participating partner in Run San Francisco, we're thrilled to have this platform to promote our race to a national audience."
Run San Francisco debuted with a booth at the Los Angeles Marathon Expo earlier this year in March, with more than 40,000 people representing 50 states and 63 countries attending the two-day event.  Last week, Run San Francisco participated in the runDisney Health & Fitness Expo as part of the Tinker Bell Half Marathon in Anaheim, CA with an estimated 27,000 registered runners. In addition, Run San Francisco plans to participate in three upcoming expos, which combined will attract more than 300,000 attendees:
Rock 'n' Roll in Seattle, WA (estimated 20,650 registered runners)
The Chicago Marathon in Chicago, IL (estimated 45,000 registered runners)
The New York Marathon in New York, NY (estimated 50,000 registered runners)
"Runners World" calls out the unique advantages of running in San Francisco, saying, "If you're going to San Francisco, be sure to pack your favorite running shoes, because the city by the bay landed at the top of our chart. With its signature fog, cool summers, and rolling terrain, getting out the door is painless. And there's no end of routes to explore. From Land's End Coastal Trail, you can run about three miles to the famous Sutro Baths saltwater pools and more trails at Ocean Beach. End the route with a beer at the Park Chalet in Golden Gate Park. For great views of Alcatraz, run along the Embarcadero from AT&T Park to the base of the Golden Gate Bridge."
About Giants Enterprises:
Giants Enterprises, the entrepreneurial arm of the San Francisco Giants dedicated to developing new ventures beyond the Major League Baseball franchise, hosts one-of-a-kind experiences at AT&T Park, throughout San Francisco and beyond. Giants Enterprises has produced thousands of events over the last 17+ years, including The Giant Race series, which attracts 30,000+ runners annually across four cities. In addition, Giants Enterprises has produced and executed international soccer matches, professional and college football games, the 34th America's Cup and more. For more information, visit www.giantsenterprises.com.
About San Francisco Travel:
The San Francisco Travel Association is a private, not-for-profit organization that markets the city as a leisure, convention and business travel destination.  With more than 1,300 partner businesses, San Francisco Travel is one of the largest membership-based tourism promotion agencies in the country. Tourism, San Francisco's largest industry, generated record-breaking numbers in 2016.  More than 25.1 million people visited the destination, spending in excess of $9.69 billion. More than 76,520 jobs are supported by tourism in San Francisco.
The San Francisco Travel business offices are located at One Front St., Suite 2900, San Francisco, CA 94111.
San Francisco Travel operates Visitor Information Centers at Hallidie Plaza, 900 Market St. at the corner of Powell and Market streets, and on the lower level of Macy's Union Square.  San Francisco Travel is also a partner at the California Welcome Center at PIER 39.  For more information, visit www.sftravel.com.
San Francisco International Airport (SFO) offers non-stop flights to more than 46 international cities on 39 international carriers. The Bay Area's largest airport connects non-stop with 79 cities in the U.S. on 13 domestic airlines. SFO is proud to offer upgraded free Wi-Fi with no advertising. For up-to-the-minute departure and arrival information, airport maps and details on shopping, dining, cultural exhibitions, ground transportation and more, visit www.flysfo.com. Follow SFO on www.twitter.com/flysfo and www.facebook.com/flysfo.
About Giant Race:
The Giant Race Run/Walk Series represents the perfect combination of running and baseball. With annual events held in Scottsdale, Sacramento, San Jose and San Francisco, the Giant Race unites an array of Giants-inspired themes at every level of professional baseball. After stops in Scottsdale during Spring Training and at Minor League facilities in Sacramento and San Jose, the Series ends on the field at AT&T Park with a 20,000-participant race on the flattest and fastest course in San Francisco. The San Francisco Giants and Giants Enterprises have worked together to give baseball fans and running enthusiasts an unforgettable journey of run, walk, fitness, and training experiences all season long. For more information, visit www.giantrace.com.
About Alaska Airlines Bay to Breakers:
San Francisco's Alaska Airlines Bay to Breakers is one of the oldest annual footraces in the world, a staple to the City by the Bay since May 1912. With a starting point near the San Francisco Bay, a few blocks from The Embarcadero, the 7.46 mile race runs west through the city and finishes at the Great Highway where the breakers crash onto the Pacific Coast's Ocean Beach. A quintessential San Francisco experience for 105 years, the race is interwoven into the fabric of the city and is a true reflection and celebration of life between the breakers and the Bay. For more information, visit www.baytobreakers.com.
About Across The Bay 12k and 415k:
Now in its 34th year, The Across The Bay 12k features San Francisco's most scenic course–a point to point journey starting in Sausalito, running across the Golden Gate Bridge, and finishing in Aquatic Park. The 5k starts and finishes in San Francisco. Edgewood Center for Children and Families is the Official Charity Partner and all participants receive a finisher's medal and race tech tee designed by the local artists at San Franpsycho. Across the Bay is an ode to simpler times when people came out to run on a whim, give their best and high five the finisher next to them — dudes and gals that have been around running and racing Across the Bay since it started in the 80's. For more information, visit www.race415.com.
# # #