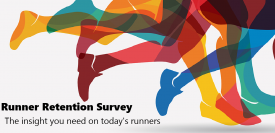 Inaugural retention report and expert panel answers why runners are entering fewer events, what they are doing instead and what race directors can do to win them back
AUSTIN, Texas (February 12, 2018) – Running USA, the national trade organization for the sport of road running, announced today the debut of the first ever Runner Retention Survey, a report focused on why recreational runners are signing up for fewer road races and diverting their attention to other athletic events or pursuits.
Since 2014, the running industry has experienced a gradual but consistent year-over-year decline in the number of road race finishers. While nearly 17 million runners still finished a race in 2016, races from marathons to 5Ks across the United States have shared concern as to where runners are spending their time and money instead, as well as how to entice runners back to their respective events.
The findings of the Runner Retention Survey were be presented today at the Running USA 2018 conference in Austin, a gathering of over 700 of the endurance industry's leaders.
"For the past three years, race directors and others in the industry have consistently asked where the runners are going and whether they will return," said Running USA CEO Rich Harshbarger. "Our Runner Retention Survey has answered those questions, giving us the insights so we can discuss and debate how best to reignite growth in the sport."
The Runner Retention Survey, an in-depth survey which accumulated feedback from more than 5,000 U.S. recreational runners, seeks to answer these questions and provide insight for the running industry about how to win back past participants.
Key insights presented include:
Attitudes towards running events
Reasons runners select a race
Factors in entering fewer events
Experiences runners seek out at running events
Alternatives for spending time and money
Reasons for running
Road race participation numbers
The Runner Retention Survey is now available to all Running USA Foundation members for free, while Contributing and Standard members can purchase the findings for $99. Non-members may purchase the report for $159. The report is available here.
About Running USA
Running USA is a tax-exempt, not-for-profit organization devoted to improving the status and experience of distance running and racing in the United States. Through collective marketing and promotions, information and communications within the industry and to the national media, along with services to events and industry members, Running USA seeks the advancement of the sport and the provision of value to each of its members' events and businesses. For more information, visit RunningUSA.org
To learn more or purchase the Runner Retention Survey, please visit: http://www.runningusa.org/runner-retention-survey
Media Contact
Running USA
Leah Etling – Director of Marketing and Communications
805.452.3365
leah@runningusa.org
###