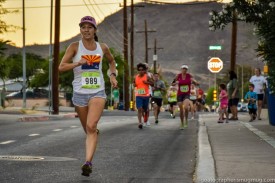 Prize purse of $6,016 in incentive-based awards for May 27 and May 28 TMC Night Run 5k & Run Tucson Festival of Miles
Run Tucson and the Southern Arizona Roadrunners are pleased to announce the prize purse for the 10th Anniversary of Tucson's most popular race, the TMC Meet Me Downtown Night Run Weekend held on Memorial Day weekend.
"As the RRCA West Regional 5k Championships and the RRCA Arizona State One Mile Championships, we're committed to providing money to top runners from the region," says race director Randy Accetta.  "We can't compete with the big national-level races, but we provide incentive-based awards for open and masters-age athletes who care about performance."
Featuring nine separate divisions of one-mile events, the inaugural Festival of Miles has been named a "Featured Event" in the acclaimed "Bring Back the Mile" series, founded by Ryan Lamppa.  Showcasing America's best Mile events, the Bring Back the Mile series aims to create a national movement highlighting the Mile distance.
On Friday, May 27th, the Friday Night Festival of Miles include the RRCA Arizona State Mile Championship, and will have $2,366 available in incentive-based prize money for overall and age group winners, including the "Race Director Challenge," in which men and women can earn an additional $408.90 if they beat the race director's Mile PR of 4:08.9, set back in 1988.
"Yeah, it's a bit of a Glory Days publicity stunt," says race director Accetta, "but it's also our way of drawing a straight line between generations. We've adjusted the women's time to 4:48.9, following the Mercier Score Calculator.  In addition to the fun side of things, we want to support those who train for speed."
On Saturday, May 28th, the TMC Meet Me Downtown 5k Night Run will have over 3,000 runners and $3,650 in prize money for top finishers, masters, team awards (based on cross country scoring for teams of 5 or more), and course record bonuses.
"We've had some good running, said Accetta, "even in the early summer desert heat.  The men's record is Jordan Chipengama's 14:25, while the women's record is Maggie Callahan's 17:23.  Jordan came from Flagstaff and Maggie came down from Boulder, so we're getting some good regional runners."
Elite Athlete Coordinator James Eichberger (himself an 800m competitor in the 2013 World Track and Field Championships) can be contacted at jpeichberger@gmail.com.
Additional festivities on both nights include live music on the course; stilt walkers, fire show and family activities including a free entry to the Children's Museum; the fourth annual "Food Truck Running Race Round-Up"; Junior League Beer Garden; and the 10th annual after-party at the historic Hotel Congress. Hotel discounts will be available at nearby Tucson resorts and nearby hotels and motels.
An RRCA Coaching Certification course will also be held in Tucson on race weekend.
About Run Tucson:
Founded by Randy and Tia Accetta, Run Tucson (www.runtucson.net) is a full service event and coaching entity producing running events on behalf of the Southern Arizona Roadrunners (www.azroadrunners.org). With coaches certified by the Road Runners Club of America (www.rrca.org), Run Tucson manages Arizona's longest-running coached training group, the Workout Group, founded in 1997. 
About the Southern Arizona Roadrunners: 
Arizona's longest-standing running club, SAR (www.azroadrunners.org) is a member of the Road Runners Club of America. The Southern Arizona Roadrunners is a not-for-profit organization dedicated to promoting health and fitness in Tucson and Southern Arizona through running and walking.