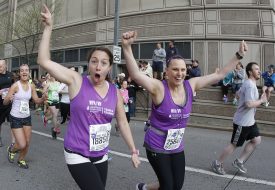 This year's DICK'S Sporting Goods Pittsburgh Marathon charity runners are expected to raise a total of $1.5 million
PITTSBURGH – Pittsburgh Three Rivers Marathon, Inc. (P3R) announced today that the Run for a Reason Charity Program presented by Bank of America has surpassed $11 million in donations since its inception in 2009. More than 1,600 charity runners have already raised over $375,000 this year, and P3R expects a total of 3,000 will raise $1.5 million by the DICK'S Sporting Goods Pittsburgh Marathon weekend of events.
"Giving back to the community and changing lives are not only important to our organization's mission, but also the shared goals of our charity runners," said Patrice Matamoros, P3R CEO and Race Director. "Each year, it seems even more people are inspired to run for a greater good while raising funds for a cause close to their hearts."
Bank of America is excited to serve as the title partner for the Run for a Reason Program for a third year. Some of the charities represented through the program are impactful and meaningful but don't qualify for a Bank of America Charitable Foundation grant. By partnering with P3R, the nation's second largest bank has an opportunity to help further the fundraising efforts and causes of even more charities.
"We value this program as it directly impacts local charities in the Pittsburgh area, which is a priority for Bank of America. Even more, it gives us a chance to celebrate the charity runners who are an inspiration to our community," said Brian Ludwick, Market President for Bank of America Western Pennsylvania. This year, Bank of America will partner with the DICK'S Sporting Goods Pittsburgh Marathon official charities on the 'spirit mile' to cheer on runners like Hannah Camic who strive to cross the finish line in honor of their causes.
While Hannah appreciates all the support, it is knowing that she and her fellow Run to Cure CF team members have made a difference through the Run for a Reason program that really motivates her on race day. According to Hannah, "I have seen firsthand the life-saving ramifications of a generous gift from so many selfless individuals. Their donations help so many people with cystic fibrosis live longer, healthier, happier lives." She is one of many connecting their passion for running with a purpose in hopes of raising much needed funds that can change lives.
More than 3,000 charity runners are expected to join Hannah during the 10th DICK'S Sporting Goods Pittsburgh Marathon weekend of events, scheduled for May 4-6, 2018. Their efforts will benefit over 115 different local and national charities, with over 90 percent of donations directly impacting organizations in the greater Pittsburgh area.
The charities who have received the most donations to-date for 2018 include:
Cystic Fibrosis Foundation – $47,146
American Cancer Society – $37,832
Humane Animal Rescue – $36,185
Children's Hospital of Pittsburgh Foundation – $28,325
Juvenile Diabetes Research Foundation – $21,095
For more information about the Run for a Reason Charity Program presented by Bank of America, visit: www.pittsburghmarathon.com/charities
#   #   #
About Pittsburgh Three Rivers Marathon, Inc. (P3R)
P3R is a nonprofit organization that is passionate about promoting a love of running and enhancing community access to health & fitness education and activities. Best known for organizing the acclaimed annual DICK'S Sporting Goods Pittsburgh Marathon, we also run a variety of other high-quality races, events, and health and fitness programs throughout the Pittsburgh region. While many of our races attract some of the nation's highest-profile professional athletes, we offer activities for all ages and ability levels. The only criterion for participation is a desire to be happy, healthy and active! Read more at: P3R.org
FACEBOOK: P3Revents                TWITTER: @P3REvents              INSTAGRAM: P3REvents