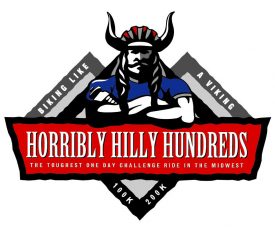 Madison, WI – Race Day Events will again provide full production management and event equipment for the 2018 Horribly Hilly Hundreds in Blue Mounds, Wisconsin. This is the 16th consecutive year of the event and the 6th year Race Day Events has partnered with the Friends of Blue Mound State Park and the Horribly Hilly Hundreds ride.
This event includes three routes, two county tours, and one result: a painfully fun, must-do biking experience. Once voted the "Sufferfest of the Year" and "The Toughest One-Day Challenge Ride in the Midwest" by the Isthmus, it is not to be missed by serious riders anywhere.  All proceeds benefit the continued upkeep and programs at the Blue Mound State Park.
Since 2003, Horribly Hilly participants have enjoyed a day of riding that results in an awe-inspiring accumulation of 10,000 feet of elevation gain in the Driftless Area of Wisconsin. Growing in popularity each year, the Horribly Hilly registration continues as an annual lottery system to accommodate the swelling number of interested riders.  Approximately 1,200 riders test their mettle on southwestern Wisconsin's scenic byways each year in the Horribly Hilly Hundreds. Riders may choose between the 100K, 150K, and 200K routes. The day is capped with a meal featuring quality local food and beer.
"Race Day Events has been fortunate to help produce such a great event for so many years.  This ride has been a pivotal event in the community and used widely as a training ride, social event, and goal ride for riders everywhere" according to Abbey VanValkenburg, Race Director with Race Day Events.
"Race Day Events has been tantamount to the success of this event for our non-profit organization!  With confidence, we are able to hand over the myriad details related to producing the event, including road and village permits, merchandising, food and snack procurement, the website and other social media.  We are particularly pleased to be working with Abbey for three years now.  Her expertise, flexibility, and diligence in planning and supporting the Horribly Hilly Hundreds is outstanding!" according to Gretchen Dieterich, Friends of Blue Mound State Park.
ABOUT RDE
Race Day Events is an event production company located in Madison, Wisconsin. Founded in 2006, Race Day Events owns 18 running and multisport events throughout the state and provides a host of production services to over 300 events throughout the nation. Race Day Events is also the exclusive production company for Madison Festivals, Inc.'s Run Madtown, Taste of Madison, and Madison Marathon.