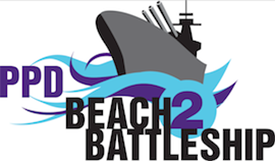 Sponsorship to Feature Michelob Ultra and Natty Greene Brands
Wilmington, N.C. – August 14, 2013 – PPD Beach2Battleship Iron and Half Iron Distance Triathlon announced today that R.A. Jeffreys Distributing Company, L.L.C. will be the exclusive beer distributor and headline sponsor of the 2013 finish line festival. On Oct. 26, thousands of spectators will line the streets of Wilmington to cheer on more than 2,200 family members and friends competing in the sixth annual PPD Beach2Battleship Triathlon. R.A. Jeffreys will be providing Michelob Ultra and Natty Greene beer for participants and spectators at the event finish line.
"Our product advertises a lifestyle for people on the move, and this fits our marketing strategy," said Bill Rhodes, Event Marketing Manager for R.A. Jeffreys. "We are excited to be involved in an event that brings in such positive impact for the city and look forward to remaining a solid partner for years to come."
Said Dick Jones, CEO of the Wilmington Family YMCA, "This partnership with R.A. Jeffreys is a perfect fit for our event. We are grateful for their continued support, and all the athletes and spectators will be glad to see them at the finish line, as well."
The R.A. Jeffreys sponsorship was secured by Erin Hogston, sales and marketing coordinator of Set Up Events.
About R.A. Jeffreys
R.A. Jeffreys has been an integral part of Eastern North Carolina since 1923. The business represents a major economic force by generating significant jobs, wages and taxes for our community. R.A. Jeffreys' contributions benefit local chambers of commerce, law enforcement agencies, schools and universities, arts and entertainment venues, festivals, literacy programs, sporting events and fitness and recreational events R.A. Jeffreys believes that who they are as a corporation is part of their history and longstanding commitment to the communities in which they do business. The people of R.A. Jeffreys are proud of these commitments and will continue their legacy of giving back and helping to make a difference in the lives of their neighbors and friends. www.rajeffreys.com 
About the PPD Beach2Battleship Triathlon 
The PPD Beach2Battleship Triathlon has been ranked among the top five iron distance triathlons in the world by Triathlete magazine. More than 2,200 athletes from 45 U.S. states and 10 nations will participate, helping generate more than $4 million in local economic impact. Funds raised will benefit the Wilmington Family YMCA. PPD Beach2Battleship is produced by Set Up Events. The full iron distance triathlon includes a 2.4-mile swim, a 112-mile bike ride and a 26.2-mile run, and the event also offers a half iron triathlon course. The race starts in Wrightsville Beach, winds through New Hanover, Pender, Sampson and Bladen counties and ends in downtown Wilmington.
About PPD 
PPD is a leading global contract research organization providing drug discovery, development, lifecycle management and laboratory services. Our clients and partners include pharmaceutical, biotechnology, medical device, academic and government organizations. With offices in 46 countries and more than 12,500 professionals worldwide, PPD applies innovative technologies, therapeutic expertise and a commitment to quality to help clients and partners accelerate the delivery of safe and effective therapeutics and maximize the returns on their R&D investments. For more information, visit www.ppdi.com.
About the Wilmington Family YMCA
The Wilmington Family YMCA serves more than 8,000 people each year, including 2,000 children under the age of 18. Through a variety of programs and services focused on the holistic development of children and youth, and family strengthening, YMCAs unite men, women and children of all ages, faiths, backgrounds, abilities and income levels. The Wilmington Family YMCA has proudly served the community for nearly 125 years by building healthy spirit, mind and body for all. For more information, visit www.wilmingtonfamilyymca.org
About Set Up Events
Set Up Events, one of the nation's largest producers of triathlons, is a full-service production, registration and timing company for participatory sports, triathlon and running events. In 2013 Set Up Events will produce over 150 triathlons in 8 states totaling over 64,000 registrations. For more information about Set Up Events, visit www.SetUpEvents.com Participants can also follow Set Up Events on Twitter (@SetUpEvents) or like Set Up Events' Facebook page.
For further information, contact: media@setupevents.com 910-512-4489
####