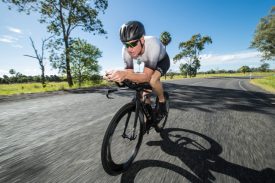 Noosa, Australia & Encinitas, California, USA – WYN republic is a new endurance apparel brand that has just launched its first collection of innovative triathlon and cycling apparel. The WYN republic lines are designed to integrate high performance and elegant style for training and racing.
The men's and women's Aero+ Triathlon Collection includes a variety of separates and one-piece suits designed for race conditions. Professional triathlete and WYN republic founder, Luke McKenzie, refined each panel, seam, and fabric to simultaneously optimize aerodynamics, comfort, and style, crafting his ultimate race suit.
Luke said, "As a professional athlete, I've always been keenly interested in the impact of triathlon apparel on the race experience from both a speed and comfort perspective. After years of exploring what works and what doesn't, I wanted to construct my version of the perfect race suit and share it with the triathlon community."
The men's and women's First Edition Cycling collection includes a range of pro-level designs crafted from the highest-quality lightweight Italian materials. WYN republic plans to show triathletes what a difference premium cycling apparel can make in their daily training.
"I've always cycled in cycling apparel, run in run gear, and raced in triathlon suits," continued Luke. "I see so many triathletes out training in their tri suits, but I think they're missing the benefits & comfort of really a good cycling kit. We wanted to offer a range of cycling apparel that shows off how great premium cycling wear can be. Our designs are simple and timeless because we want our construction and quality to stand out."
———
WYN republic is an endurance apparel brand focused on high performance combined with simple sophistication. The athlete-focused brand seeks to support those training and racing with gear that leads the way in technology, comfort, and style. WYN republic hopes to build a reputation as a community-driven brand that delivers the ultimate customer experience from the 5am daily alarm clock to the tears and sweat of the finish line.
WYN republic was founded by 8-time IRONMAN® champion professional triathlete, Luke McKenzie & his wife, former pro triathlete, Beth McKenzie. They leveraged their expertise to develop highly technical, yet wearable, multi-sport apparel for endurance connoisseurs.
To learn more about WYN republic, visit: wynrepublic.com or wynrepublic.com.au
Contact:
###