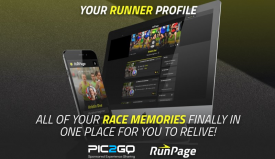 Pic2Go has released a new Runner Profile module on its RunPage post-race experience platform.
Pic2Go has released a new Runner Profile module on its RunPage post-race experience platform.
RunPage is a web platform offering race finishers one place to keep their race-day memories, photos, results and personal experiences.
The new Runner Profile module now let runners manage their "Runner Resume", including their personal record, goals and next race they are training for. Runners can highlight their completed races by creating an individual RunPage for each race they've finished, and highlight it in the Runner Profile, as can be viewed in the demo profile here – http://runpage.com/profile/kelly.johns
 "After working with thousands of races world-wide, offering participants to automatically share their race-day photos to Facebook, we've realized participants are also looking for a dedicated place where they can relive, celebrate and share their race experience forever," says Eitan Hefetz – founder and CEO of Pic2Go.
"That's when we've decided to build RunPage – a platform dedicated for runners and race finishers to relive the experience. RunPage includes all our market-leading innovations as Performance Videos and 3D FlyThrough, and much more. Since launching RunPage we see a growing adoption amond races using our Pic2Go Race-Photography platform. In fact – RunPage is now a standard (Free) add-on for all Pic2Go clients!".
At this point RunPage is offered to races using the Pic2Go automated race photo-sharing platform, as a free enhancement on top of the Facebook photo-sharing.
About Pic2Go
Established in 2010, Pic2Go is a worldwide solution provider for Sponsored Race Photography, providing endurance event participants with Free (Branded) Race Photos and Personal Race videos to share on social media. Pic2Go's Patented 2D barcode photo tagging and social sharing technology is used by major events and sponsors in more 40 countries, offering an innovative and effective channel to maximize brand engagement, social reach, and fan acquisition. For more information on Pic2Go visit http://www1.pic2go.com .